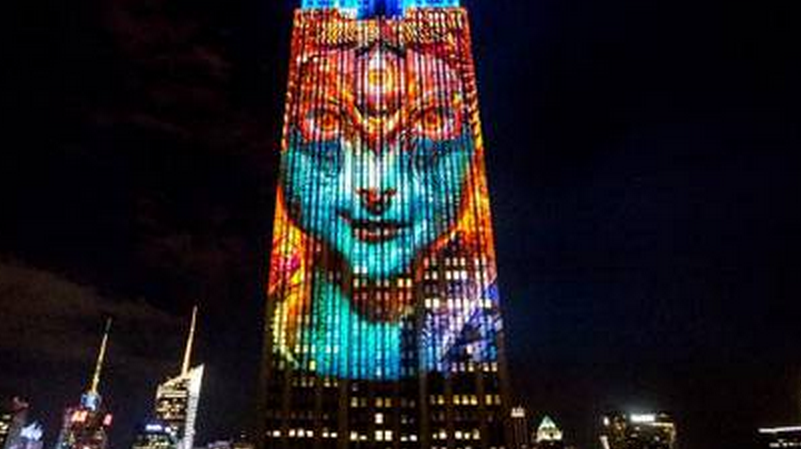 [su_row]
[su_column size="1/2″]
Striking images of endangered species were projected onto the side of the iconic Empire State Building as examples of the animals we currently risk losing due to the expansion of industrial activities. In reflecting on these images, we are called to look within ourselves for ways to transform our lives to be inclusive of all life.
[su_youtube url="https://www.youtube.com/watch?v=gYd4S-i_yms" ]
[/su_column]
[su_column size="1/2″]
An image of Kali, as painted by Android Jones, was projected onto the Empire State Building after the scenes of endangered species. Jones said "Kali is the personification of time and death. Maha Kali is the fiercest form of Maa Durga representing the destroyer of evil and Darkness."
[su_youtube url="https://www.youtube.com/watch?v=tDykLnp6j0M" ]
[/su_column]
[/su_row] 
This projection event on one of the most recognizable buildings on the planet was organized by the group who produced Racing Extinction, a film about the hidden world of the markets and industries behind the extinction of the precious species of this planet.
via Rebelle Society
In an unprecedented and awe-inspiring public display of art by filmmaker Louie Psihoyos and his team, Projecting Change, projected onto the NYC skyline by Obscura Digital, was meant to spark awareness of massive wildlife extinction, and be a chilling call to conservation turning the Empire State Building, New York's brightest and most recognizable symbol and capitalism's earliest totem, into the worlds greatest canvas, as well as its most epic tombstone and oracle of the Dark Feminine.

From the colossal projection of Cecil the Lion, whose recent tragic death provoked a mass outpouring of love and outrage, to the images of hundreds of nameless endangered animals, finned ones and scaled ones, horned ones and winged ones, two-legged and four, creeping and crawling and running for their lives across the Empire State Building, this revolutionary and heart-rending project, will not soon be forgotten.

"If you are not heartbroken, you are not paying attention!" this project seems to scream from its illustrious rooftop. For as the parade of near-extinct animals appear on the screen, it is impossible not to face the crushing realization that it is not a question of if hundreds of species will continue to go extinct, but when… Our shiny unsustainable systems based on glamour and greed have taken us to a world on the edge of collapse — only holy darkness can save us now.

And it was Kali, the dark mother, the destroyer of illusions and the personification of time, death and holy change, by Android Jones, that stole the show in New York, as the final, spectacular image of the installation, leaving her fierce gaze to peer into our souls.

If there was ever a sign of the times, this is it. In our bones we all recognize, we are in the death pangs of the old world, and that we make it through is anything but certain.

It is time to get our Kali on inside and out; to cut off the head and commit to the heart on all levels. So many of us are shedding our false selves, empty certainties and small lives, and no matter how much we wish for the safety of the old, the more desperately we hold on, the hotter the fires of the Real.

The quickening of the New Earth is upon us and what is needed now is the fierceness of Ma Kali. A holy oracle of change, her medicine is darkness, her initiation is by fire — she calls upon us to rise from our own ashes, to speak truth to power, take on all our shadows and take up the arms that we have, our own, to hold, serve and protect all life as we would our own child.

The Divine Feminine energy is pulsing through every pore of the planet right now, every whisper of the world soul is one intimately connected to our ecology. The ecological consciousness is feminine consciousness, systemic, interconnected, relational and embodied; nature and psyche, body and soul, the spiritual and the political can no longer remain apart.

May we burn up the convoluted narratives of separation, deprivation and control, cut off the dead promises of capitalism, step fully into our dharma, and let the Mother guide us through the fires of transfiguration. May all beings be happy. One Body. One Heart. Jai Ma!

"In preparation for the birth of the Divine, the entire human race is now going through a global dark night, which will result in a new humanity that has been humbled and chastened by tragedy, so that it may open completely to the mystery of divine grace. This dark night cannot be bargained with, explained away, leapt over or mitigated. It is the destined crucifixion of a communal human ego now clearly revealed to be suicidal, matricidal, dangerous to itself and to the whole of creation. No one and nothing will stop Kali dancing Her terrible dance of destruction and re-creation. There will be no resurrection of an embodied divine humanity without a systematic, perfectly organized, brutally complete crucifixion of everything in us that keeps us addicted to the systems of illusion that are now rapidly destroying everything."  ~ Andrew Harvey
You can read more from Rebelle Society on this story here.
And you can see more of the innovative and esoteric work of Android Jones in the New Edition of Zig Zag Zen: Buddhism and Psychedelics.