Synergetic Press, previous distributor of the Ornette Coleman classic film is pleased to announce the new release through Milestone Films of "Ornette: Made in America."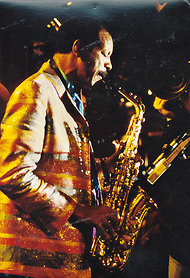 Ornette: Made In America captures Ornette's evolution over three decades. Returning home to Fort Worth, Texas in 1983 as a famed performer and composer, documentary footage, dramatic scenes, and some of the first music video-style segments ever made, chronicle his boyhood in segregated Texas and his subsequent emergence as an American cultural pioneer and world-class icon. Among those who contribute to the film include William Burroughs, Brion Gysin, Buckminster Fuller, Don Cherry, Yoko Ono, Charlie Haden, Robert Palmer, Jayne Cortez and John Rockwell.
The film was recently featured in the New York Times:
"Ornette: Made in America," which was released theatrically in 1985 and opens again, in a print restored by Milestone Films, at the IFC Center in Manhattan on Friday, is full of such tantalizing stuff: formal juxtapositions, half-sketched implications, parallel experiments of image and sound. By virtue of the footage alone, it's a valuable time capsule for anyone drawn to Mr. Coleman's work, particularly in the two decades following the cusp of the 1960s, when his dauntless, affirming vision of free improvisation famously created a crisis of faith in jazz.
-By NATE CHINEN from the New York Times