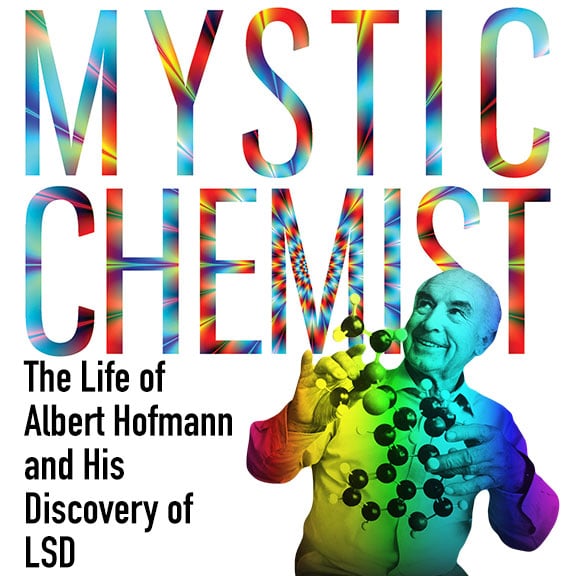 Mystic Chemist: The Life of Albert Hofmann and His Discovery of LSD  was awarded "Best Biography" at the New Mexico-Arizona 2013 Book awards! Click here for the full list of winners.
Only a few discoveries of the 20th century have had such crucial and meaningful influences on science, society and culture as LSD. This mysterious and extremely potent substance causes profound changes of consciousness in doses of millionths of a gram. Swiss chemist Albert Hofmann first experienced its remarkable effects during a self-experiment with Lysergic Acid Diethylamide in 1943 at Sandoz Laboratory in Basel. It changed his life deeply, as it also has the lives of millions around the world.  His bicycle ride during this first LSD trip became legendary.
The best compendium of the birth and transformative effect of one of the greatest discoveries ever made.
– Alex Grey, Visionary Artist
A marvelous job of pulling together documentation and commentary, not only about Hofmann and LSD but also the socio-cultural and political upheavals of the 1960s, during which LSD and all mind-expanding drugs played an enormous role.
– Ralph Metzner, PhD
This book covers everything of importance in the scientific, social, spiritual and artistic realms that resulted from his epochal discovery.
– Michael Horowitz, psychoactive drug historian,
editor of works by Aldous Huxley and Timothy Leary
As psychedelic research is dramatically expanding, Albert's life journey deserves to become more widely known. There is much to learn from this book and from Albert's example.
– Rick Doblin, PhD, founder and executive director,
Multidisciplinary Association of Psychedelic Studies (MAPS)
A fascinating read and a highly recommended addition to academic, and community library 20th Century Biography collections.
– James A. Cox, Midwest Book Review