The following is an excerpt from Psychedelic Integration: Psychotherapy for Non-Ordinary States of Consciousness by Marc B. Aixalà:
My interest in psychoactive substances and non-ordinary states of consciousness began in the basement of my mother's pharmacy, among the custom medications she compounded in her laboratory. As a child, I spent hours helping her weigh her powders, mixing them with her mortar, preparing and carefully cleaning the capsules to rid them of their bitter taste. In that room, I did my homework, and when the homework got too boring, I would get up and walk among shelves lined with containers full of active ingredients with unpronounceable names, imagining what they could be for. One afternoon I came across a book called Plantas medicinales: el Dioscórides renovado, by the Catalonian writer Pius Font Quer. In the book's introduction, I read the story of the meeting between Gordon Wasson and María Sabina and the first magic mushrooms experience as told by a white man. That story had a profound impact on me, and for the next several weeks I immersed myself in the Dioscórides, reading about plants that had amazing effects. It became my secret passion.
In the year 2000, I had my first personal contact with the worlds that I had read about in the Dioscórides, at a time when I was a student of Telecommunications Engineering.
My first experience was one of sublime beauty, and it marked a before and after in my life. I was able to start overcoming some difficult personal circumstances that I was going through and I felt that my true vocation was in the study of non-ordinary states and their therapeutic application.
Throughout my time as a Telecommunications Engineering student, I continued to seek these experiences in different contexts and I began to learn from people who were dedicated to this type of work. In 2006 I went to Boom Festival for the first time (a psytrance music and psychedelic culture festival). This was another crucial experience in my life. I have attended every edition ever since, mainly as a volunteer for the psychological emergency service called Kosmicare. In later years, I have been a team leader and the trainer/supervisor of the volunteer teams. Being a part of this service has been an enormously formative experience since I have been able to observe and support the sort of difficult psychedelic experiences that can be the source of later problems.
Over the course of those years, I read the work of Stanislav Grof. I was completely baffled to see my most intimate experiences described in astonishing detail in his expanded cartography of the psyche. This encouraged me to learn more about his work and in 2005 I participated for the first time in a Holotropic Breathwork workshop. Grof's proposed format of working with our breath became the backbone that structured all my previous experiences. I was able to contextualize everything that I had experienced up to that point, which led me to develop the concept of process and, within it, the need for integration. From 2006 to 2012, I trained as a Holotropic Breathwork facilitator, later giving myself to offering workshops and training, also as a member of the Grof Transpersonal Training team.
In 2007 I spent a year in Peru, completing my degree's final project on telehealth in rural areas. For a little over a month, I was able to visit different communities along the Napo river basin, where I met Shipibo communities and had my first contact with ayahuasca and traditional medicine practices. Shamanism has never been my path, but from that moment on, I developed a deep respect for these Indigenous traditions and their ancestral knowledge.
After finishing my studies—and working as an engineer for a few years—I realized that I needed to pay attention to all the signs and experiences that I had come across in my path and follow my true vocation. I decided to completely change professions and dedicate myself to psychology, psychotherapy and non-ordinary states of consciousness. So I went back to college to study psychology. I graduated in 2012, opened my private practice, and continued my training in integrative therapy, strategic brief therapy, and other disciplines.
In 2012 I also started collaborating with ICEERS (International Center for Ethnobotanical Education, Research and Service). My job was to provide support for the people who contacted us by email and phone. We received all kinds of questions about the use of psychoactive substances, as well as stories and reports of difficulties after complex experiences with ayahuasca and other substances. We created a support service that was then called the "Help Center" and later became the "Integration and Support Service." Over the years, I have served more than 700 people who needed some kind of support, whether in the preparation or the integration of their experiences, or both. 
I was also fortunate when MAPS invited me to train as an MDMA-assisted psychotherapist in a seminar taught by Michael and Annie Mithoefer in 2015. And a few years later, I started working as a therapist at the Sant Joan de Déu Hospital in Barcelona, in a study that used psilocybin to treat major depression. I was thus able to gain a methodical and scientific vision of what research in this discipline implies.
I share this with the intention of illustrating, through my own story as an example, the progressive integration of my experiences over more than fifteen years. Only with time have I been able to materialize some of the realizations that happened during those singular hours.
Over the last decade, the need to integrate psychedelic experiences has become a matter of increasing interest. Without much forethought or planning, I began to specialize in this, gaining experience through my private practice, my work as a Holotropic Breathwork facilitator and my work in the ICEERS' integration service.
The field of integration is very young and is still underdeveloped. Although we frequently use the concept of integration nowadays, each therapist has their own idea of what integration means and how it should be carried out. We use the same word for totally different concepts and practices. Furthermore, when I began writing this text, there were no books dealing specifically with integration, and no schools that addressed this part of psychedelic therapy. If one wants to learn about integration, where should one go? This is a question that I had often been asked in my talks. Therefore, it seemed appropriate to try to summarize and systematize my understanding of integration in a book that could serve as an inspiration for other people to continue developing this field. I thought I had a lot of knowledge to bring to this field, with a head full of new and interesting ideas.
---
Marc B. Aixalà is a telecommunications engineer, psychologist, psychotherapist and certified Holotropic Breathwork facilitator specializing in supporting people who face challenging experiences with expanded states of consciousness. Since 2013, in collaboration with the International Center for Ethnobotanical Education, Research and Service (ICEERS), Aixalá has offered integration psychotherapy sessions for those seeking support after psychedelic experiences. At ICEERS, Aixalà also works to develop theoretical models of intervention and trains and supervises therapists.
Aixalà has served as a team leader and trainer in emergency psychological assistance at Boom Festival through the Kosmicare harm reduction program. He also worked on the first-ever medical trial on the use of psilocybin for treatment-resistant depression, a study chronicled in the 2018 documentary, "Magic Medicine." He continues to work as a therapist in clinical trials researching psychedelic substances.
Aixalà is trained in the therapeutic use of Non-Ordinary States of Consciousness as well as in MDMA-assisted psychotherapy for post-traumatic stress disorder ( PTSD) by the Multidisciplinary Association for Psychedelic Studies (MAPS). Aixalà works as a psychologist in his private practice in Barcelona, Spain and offers trainings, lectures, and talks related to psychedelic psychotherapy and integration.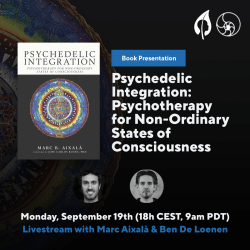 Book Launch Event, September 19th, 2022
Join Marc Aixalá and Benjamin De Loenen, founder and executive director of the International Center for Ethnobotanical Education, Research, and Service (ICEERS) on September 19th, 2022, 9 am PDT, for an intimate discussion on these and related topics as we celebrate the publication of Aixalá's book, Psychedelic Integration: Psychotherapy for Non-Ordinary States of Consciousness.⁠
⁠
This event is co-sponsored by Synergetic Press and ICEERS and will be streamed live on ICEERS' and Synergetic Press' social media pages.⁠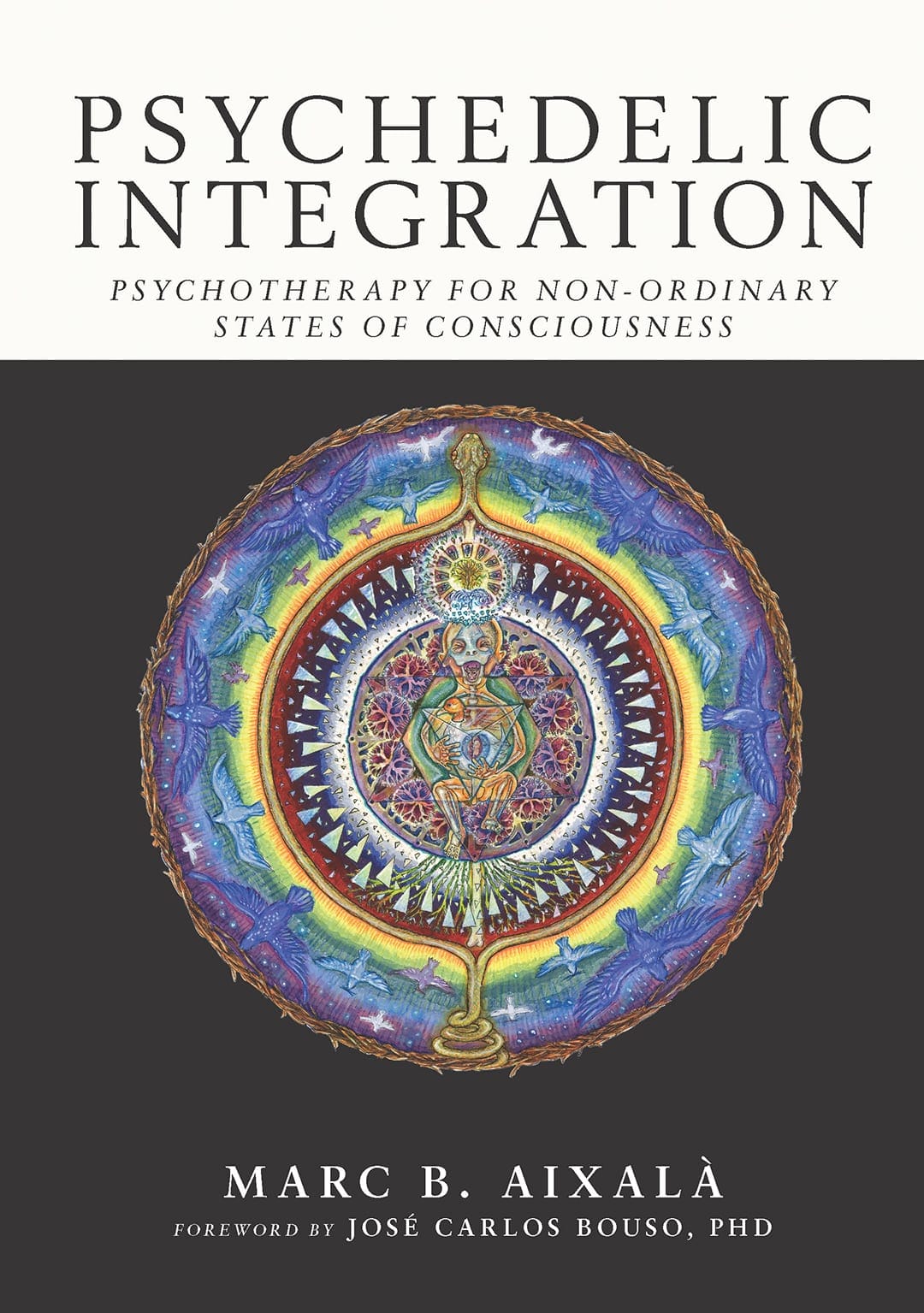 Psychedelic Integration: Psychotherapy for Non-Ordinary States of Consciousness
When psychologist and psychotherapist Marc B. Aixalá began fielding questions from people around the world seeking help integrating their own psychedelic experiences, he couldn't find a singular source of collected research and support. What began as an attempt to help others became Psychedelic Integration, a work that traces the evolution of psychedelic-assisted therapy and integration research from the 1960s to the present moment, explains therapeutic techniques and outlines a clinician's real-world observations on the deep work of healing.