Contributed by Alessandra Campos-Miller, MA
In the episode Facing the Darkside of Erik Davis's Expanding Mind podcast, Davis speaks with groundbreaking transpersonal psychologist and psychedelic researcher Dr. Stanislav Grof about nightmares, pathology, psychedelics, and the visionary art of H.R. Giger. Psychedelics have the ability to activate dimensions of the psyche that may otherwise remain inaccessible to the conscious mind. As Dr. Grof explains, the psychedelic experience acts as a catalyst, "activating deep contents in our unconscious" that provide opportunity for cosmic transformation. Experiences of ecstatic or "celestial" states of consciousness provide one means by which these contents can be accessed. However, there is also an underworld of the psyche that is made up of the darker elements of the unconscious. In his discussion with Erik Davis, Dr. Grof employs the work of artist H.R. Giger to explore this darker side of psychic terrain. According to Dr. Grof, the artwork of Giger depicts the psychological traumas that make up the landscape of our dark unconscious as he explores in his book H.R. Giger and the Zeitgeist of the Twentieth Century.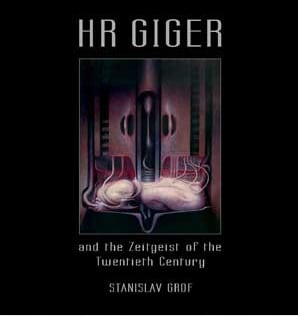 In his discussion with Davis, Dr. Grof points to the experience of birth as the locus of our primary trauma. Grof explores the intimate relationship as shown in Giger's artwork and experienced in the perinatal journey. The exploration of the initial traumatic experience of birth is essential to holotropic healing, which literally means "moving towards wholeness." By dealing with the nightmarish realm of the unconscious, we move towards wholeness, healing, and perhaps even the next stage of human evolution. Listen to the episode here:
And delve even deeper into the dark side of modern consciousness with the work of Dr. Stanislav Grof and the art of H.R. Giger with your copy of H.R. Giger and the Zeitgeist of the Twentieth Century.
Stanislav Grof, M.D., Ph.D., is a psychiatrist with more than fifty years experience researching the healing and transformative potential of non-ordinary states of consciousness. His groundbreaking theories influenced the integration of Western science with his brilliant mapping of the transpersonal dimension. On October 5, 2007 Dr. Grof received the prestigious VISION 97 award granted by the Foundation of Dagmar and Vaclav Havel in Prague. He is one of the founders and chief theoreticians of Transpersonal Psychology and received an Honorary Award for major contributions to and development of the field of Transpersonal Psychology from the Association for Transpersonal Psychology in 1993. Dr. Grof is also the founding President of the International Transpersonal Association (ITA) and was its President for many years. He has organized large international conferences throughout the world and continues to lecture and teach professional training programs in Holotropic Breathwork and transpersonal psychology. Currently, Dr. Grof is Professor of Psychology at the California Institute of Integral Studies (CIIS) in the Department of Philosophy, Cosmology, and Consciousness in San Francisco, CA, and at Wisdom University in Oakland, CA. Dr. Grof was born in 1931 in Prague where he received an M.D. from Charles University and a Ph.D. (Doctor of Philosophy in Medicine) from the Czechoslovakian Academy of Sciences. Between 1960 and 1967, he was Principal Investigator in a psychedelic research program at the Psychiatric Research Institute in Prague, Czechoslovakia. In the United States, Dr. Grof served as Chief of Psychiatric Research at the Maryland Psychiatric Research Center and Assistant Professor of Psychiatry at Johns Hopkins University School of Medicine in Baltimore, MD. He was also Scholar-in-Residence at Esalen Institute. Dr. Grof's extensive research includes experiential psychotherapy using psychedelics and non-drug techniques, especially the holotropic breathwork (a method he developed with his wife Christina), alternative approaches to psychoses, understanding and treatment of psychospiritual crises ("spiritual emergencies"), the implications of recent developments in quantum-relativistic physics, biology, brain research, and other avenues of the emerging scientific paradigm, for psychiatric theory and consciousness studies. Among his publications are over 150 papers in professional journals and many books including Beyond the Brain, LSD Psychotherapy, Psychology of the Future, The Cosmic Game, and the newly-released When the Impossible Happens and The Ultimate Journey. Recently, he wrote the essay to that provides a psychoanalytic framework for understanding the work of H.R. Giger.
from Synergetic Press
Erik Davis was born during the Summer of Love within a stone's throw of San Francisco. He grew up in North County, Southern California, and spent a decade on the East Coast, where he studied literature and philosophy at Yale and spent six years in the freelance trenches of Brooklyn and Manhattan before moving to San Francisco, where he currently resides. He is the author of four books: Nomad Codes: Adventures in Modern Esoterica (Yeti, 2010), The Visionary State: A Journey through California's Spiritual Landscape(Chronicle, 2006), with photographs by Michael Rauner, and the 33 1/3 volume Led Zeppelin IV(Continuum, 2005). His first and best-known book remains TechGnosis: Myth, Magic, and Mysticism in the Age of Information (Crown, 1998), a cult classic of visionary media studies that has been translated into five languages and recently republished by North Atlantic Press. He has contributed chapters on art, music, technoculture, and contemporary spirituality to over a dozen books, including Future Matters: the Persistence of Philip K. Dick (Palgrave), Sound Unbound: Writings on Contemporary Multimedia and Music Culture (MIT, 2008), AfterBurn: Reflections on Burning Man (University of New Mexico, 2005), Rave Ascension (Routledge, 2003), and Zig Zag Zen (Synergetic Press, 2015). In addition to his many forewords and introductions, Davis has contributed articles and essays to a variety of periodicals, including Bookforum, Arthur, Artforum, Slate, Salon, Gnosis, Rolling Stone, the LA Weekly, Spin, Wired and the Village Voice. A vital speaker, Davis has given talks at universities, media art conferences, and festivals around the world. He has taught seminars at the UC Berkeley, UC Davis, the California Institute of Integral Studies, and Rice University, as well as workshops at the New York Open Center and Esalen. He has been interviewed by CNN, NPR, the New York Times, and the BBC, and appeared in numerous documentaries, as well as in Craig Baldwin's underground film Specters of the Spectrum. He wrote the libretto for and performed in "How to Survive the Apocalypse," a Burning Man-inspired rock opera. He has hosted the podcast Expanding Mind on the Progressive Radio Network since 2010, and is currently earning his PhD in Religious Studies at Rice University .
from Techgnosis