Celebrating Bicycle Day 2019
The celebration of 'Bicycle Day'  does not commemorate the invention of our favorite two-wheeled vehicle, it serves as an homage to the day that Swiss chemist Albert Hofmann first intentionally ingested Lysergic Acid Diethylamide (otherwise known as LSD) in a self-experiment to ascertain its effects.
What does that even have to do with bicycles? On April 19th, 1943, Hofmann ingested 250 micrograms of the substance, believing it to be a threshold dose of the drug (later he learned that a threshold dose was a mere 20 micrograms). About an hour after ingesting the drug, Hofmann began to feel its effects take hold, asking his laboratory assistant to escort him home that evening. However, due to wartime restrictions cars were prohibited; they had to travel home by bicycle. He later wrote: 
"I suddenly became strangely inebriated. The external world became changed as in a dream. Objects appeared to gain in relief; they assumed unusual dimensions; and colors became more glowing. Even self-perception and the sense of time were changed. When the eyes were closed, colored pictures flashed past in a quickly changing kaleidoscope. After a few hours, the not unpleasant inebriation, which had been experienced whilst I was fully conscious, disappeared. What had caused this condition?" ーJonathan Ott, Albert Hofmann (1997) Pharmacotheon: Entheogenic Drugs, Their Plant Sources and History
A Significant Discovery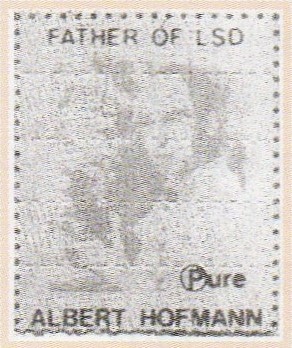 Immediately, Hofmann became fascinated by LSD's ability to induce changes in consciousness. Through his LSD experience, he gained a new view of reality, becoming aware of the wonder of creation and the miracle of the natural world. This new insight led to LSD being researched as an aid to perception within the fields psychiatry and psychology. LSD was investigated for its abilities to treat addictions such as alcoholism, as well as for its ability to facilitate creative thinking.
However, before long, research into this fascinating substance came to a halt. LSD had escaped the hands of the research community and fallen into those of popular culture causing an ideological revolution in the younger generation and giving birth to a psychedelic culture. The result was Nixon's 'War on Drugs', demonizing psychoactive substances, ruling out their possible medical value, and making them illegal.  
In recent years, we are seeing a renaissance in psychedelic research with studies consistently illuminating the therapeutic and transformative potentials of substances like LSD. A recent study by Imperial College revealed how LSD changes brain connectivity alongside research from the University of Zurich, demonstrating how LSD can have a therapeutic effect. 
To help you celebrate Hofmann's legendary bicycle ride, we are offering 25% on
The Mystic Chemist, and all related titles. Browse related titles here.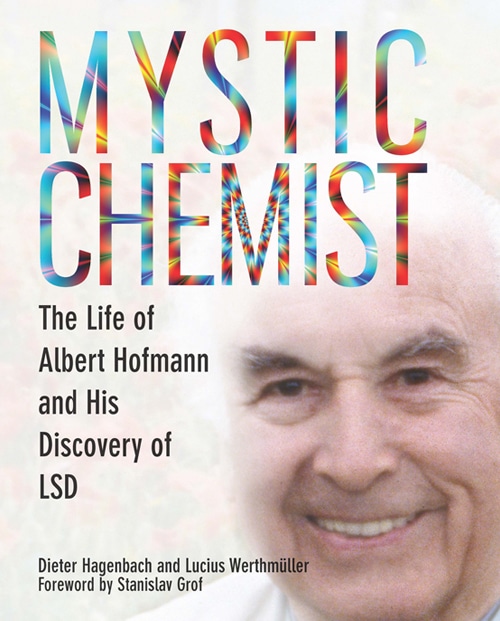 By Dieter Hagenbach & Lucius Werthmüller
Mystic Chemist is the authoritative biography on arguably the most famous chemist of the 20th century. Authors Hagenbach and Werthmüller, close friends of Hofmann, take us on a journey through the 20th century from his mystical childhood experiences with nature; to his chemistry studies with Nobel Prize winner Paul Karrer in Zurich through his discoveries of both LSD and psilocybin at Sandoz; to his adventurous expeditions and his many years of retirement devoted to philosophy of nature and a rich social life. The authors also reveal a thorough and eventful history of the impact that LSD had on culture and the ensuing struggles between its advocates and opponents, many of which persist today.
Save 25% from now until April 30th with the coupon code: Bicycle2019
Albert Hofmann's discovery of LSD, the most potent mind-expanding substance ever found, was an event of multiple synchronicities – it occurred in 1943 in Switzerland, a neutral country, within months of the building of the atomic bomb – as if it was to be a kind of psychospiritual healing antidote to mass death weapons. It occurred in a country with a centuries-long tradition of alchemy, the psychospiritual counterpoint to reductionist material science – and involved a previously unknown substance that could induce integrative expansions of awareness with profound implications for healing, for creative problem-solving, and for cosmological understanding. Albert Hofmann had the scientific and spiritual insight to recognize the enormous significance of his discovery and spent the rest of his long life exploring it with an ever-widening international circle of fellow scientists, artists, and visionary explorers. The authors of this biography have done a marvelous job of pulling together documentation and commentary, not only about Hofmann and LSD but also the socio-cultural and political upheavals of the 1960s, during which LSD and all mind-expanding drugs played an enormous role – and were made illegal. The story of LSD and its potential role in society is however far from over, as Hofmann himself also thought. Please read this book and stay tuned.ーRalph Metzner PhD
Albert Hofmann & the History of LSD
Celebrate Bicycle Day at San Francisco's Midway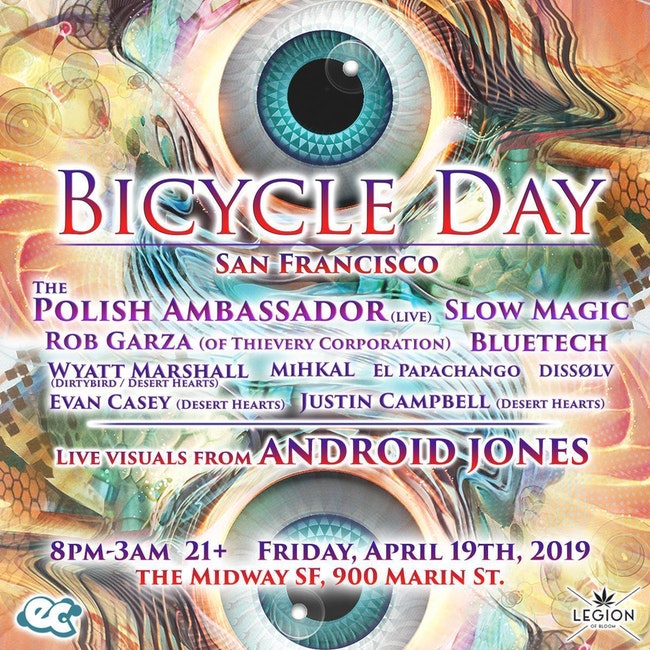 Presented by Euphonic Conceptions & The Legion Of Bloom, San Francisco's April Bicycle Day Celebration is not only a concert, but a petri dish of creativity, inspiration, and sensory stimulation. World-renowned visionary artists doing live painting, an immersive art gallery and exhilarating performances all play a large role in this annual festivity that is always packed to the brim with heart-opening experiences.
The event will feature: The Polish Ambassador (LIVE), Slow Magic, Rob Garza(of Thievery Corporation), Bluetech, Wyatt Marshall (Dirtybird / Desert Hearts), MiHKAL, El Papachango, DISSØLV, Evan Casey (Desert Hearts), Justin Campbell (Desert Hearts).
There will be LIVE VISUAL ART by Android Jones with Art Gallery by Tribe13 Gallery, an ever-growing collective of artists who share a passion for transformative expression.
Interested in learning more about the event? Delve deeper, and buy tickets here, or go to the event's Facebook page.