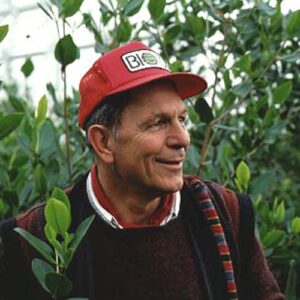 John P. Allen
---
John 'Dolphin' Allen, is author, poet, playwright who invented, conceived and co-founded the Biosphere 2 project – the world's largest laboratory for global ecology. Biosphere 2 set a number of world records in closed life system work including, among others, degree of sealing tightness, 100% waste recycle and water recycle, and duration of human residence within a closed system (eight people for two years). Allen has also conceived and co-founded nine other projects around the world, pioneering in sustainable co-evolutionary development.
He is currently the Chairman of Global Ecotechnics Corporation. This is an international project development and management company with a Biospheric Design Division engaged in designing and preparing to build the second generation of advanced materially closed biospheric systems and ecologically enriched biomic systems (www.biospheres.com); and an EcoFrontiers Division which owns and operates innovative sustainable ecological projects of which he was the co-founder and chief designer in France, Australia (5000 acre savannah regeneration project), Puerto Rico (1000 acre sustainable rainforest project) and England (www.ecotechnics.edu).
Allen began the first manned Biosphere Test Module experiment in September 1988, residing in the almost fully recyclable closed ecological system environment for three days and setting a world record at that time, proving that closed ecological systems would work with humans inside. As the vice-president of Biospheric Development for the project, as well as Executive Chairman, Allen was responsible for the science and engineering that created the materially closed life system, as well as the development of spin-off technologies.
John Allen reads one of the poems from his book, the Dream and Drink of Freedom, entitled "Record".