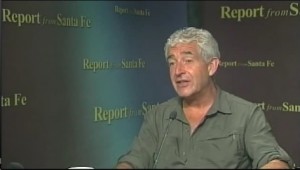 Aired August 31-September 2, 2013 – Watch the full episode here
"For too long now, the preservation of nature
has taken a back seat to the rapid progress and profit of
the economy … the main reason we need to protect nature is
not an environmental reason, it's to keep the economy
going. This book is Juniper's attempt to bring the ecology
versus economy debate into the mainstream for
the first time…" — Craig Manning, Independent Publisher
This week's guest on REPORT FROM SANTA FE is
Tony Juniper, British campaigner, sustainability advisor,
leading environmentalist, and author of "What Has Nature
Ever Done for Us?" Juniper co-authored "Harmony: A New Way
of Looking at Our World" with His Royal Highness the
Prince of Wales, for whom he serves as a Special Advisor
on Sustainability.
Juniper is one of the top ten environmental figures of the
last thirty years. He began as an ornithologist with
Birdlife International. A world expert on parrots, Juniper
wrote "Spix's Macaw: The Race to Save the World's Rarest
Bird," and co-authored the award-winning "Parrots – A
Guide to the Parrots of the World." He is recognized among
other activities for his work as Executive Director of
Friends of the Earth in Great Britain and Vice Chair of
Friends of the Earth International from 2000-2008. He was
recently appointed the first President of the Society for
the Environment.
In "What Has Nature Ever Done for Us? How Money Really
Does Grow on Trees" Tony Juniper points out that we think
everything nature does for us — providing water,
pollinating plants, generating oxygen, recycling miracles
in the soil and much more — is free, but it isn't. Its
economic value can, and has been, measured. Upon realizing
what that value truly is, he feels that we should stop
treating our natural systems in a destructive manner.
During recent years, environmental debate worldwide has
been dominated by climate change, carbon emissions and the
greenhouse effect. But a number of academic, political,
business and NGO initiatives indicate the emergence of a
new wave of environmental attention focused on "natural
capital," "ecosystem services" and "biodiversity" —
things nature does for us.
Juniper's best-selling environmental book "What Has Nature
Ever Done for Us" is filled with eye opening facts about
the true value of Nature. He establishes his argument
through riveting and accessible anecdotes that display
just how important environmental balance is to a booming
economy.
— Quotes:
• "One of those rare books that will change how we see the
world." — Michael Brune, Executive Director, Sierra Club
• "Tony Juniper presses home the basic fact that seems to
elude so many: Our economy is a subset of our natural
world, not the other way around. Once one figures this
out, much follows logically."
— Bill McKibben, author of "Eaarth: Making a Life on a
Tough New Planet" and founder of 350.org