It is with heavy hearts that we write this tribute to our long-time friend, Sally Silverstone, biospherian, author and educator. Sally died suddenly and unexpectedly at her home in Bali. The world has lost another treasure as her unique life and inquisitive spirit led her on innumerable adventures few have encountered, with perhaps one of the most well-known being her participation in the Biosphere 2 experiment, living sealed within the world's largest laboratory for global ecology for two whole years.
We at Synergetic Press, alongside Sally's friends and colleagues at the Biosphere Foundation, are all mourning her loss. We have been working together the past months promoting her new book, and she was preparing to start teaching Biosphere Stewardship programs at the Center they build in Bali starting in October.  As we absorb this shock, her close friend, fellow biospherian, and co-author with Sally and Abigail Alling of their newly published book, Life Under Glass: Lessons from Two Years Inside Biosphere 2, Dr. Mark Nelson shares these memories on her life and legacy.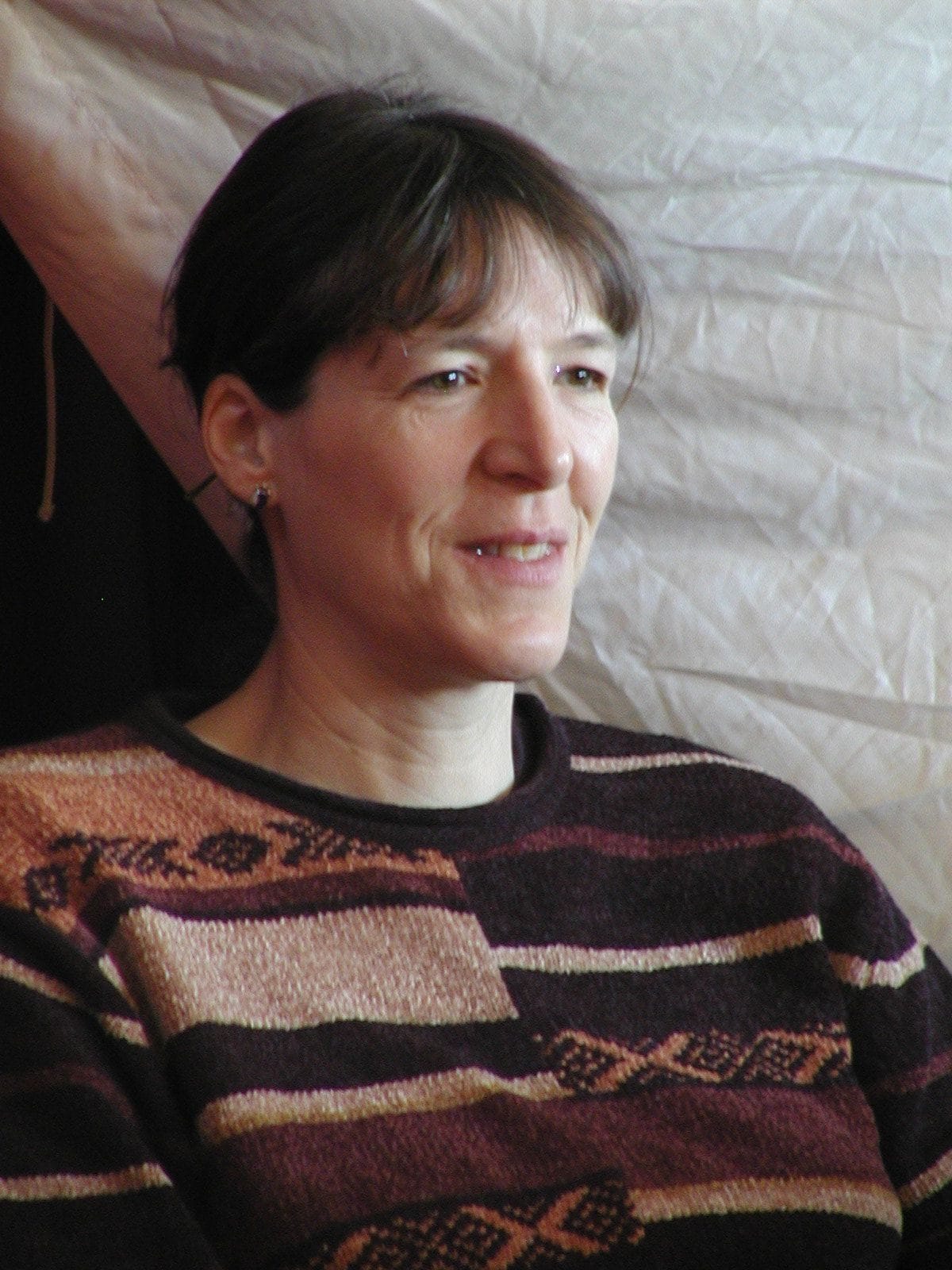 Sally Silverstone: A Remarkable Life Well Lived 
by Mark Nelson
Sally Silverstone lived a full and rich life which defies a simple, linear account. It was, for a woman so deeply connected with the Earth and the earth (soil) in which she created gardens wherever she went, a magical mystery tour.
She was always open to adventure, especially if it fell into that wonderful category of a necessary adventure. That's one which enhances the world, the people it touches and stretches her own potentialities.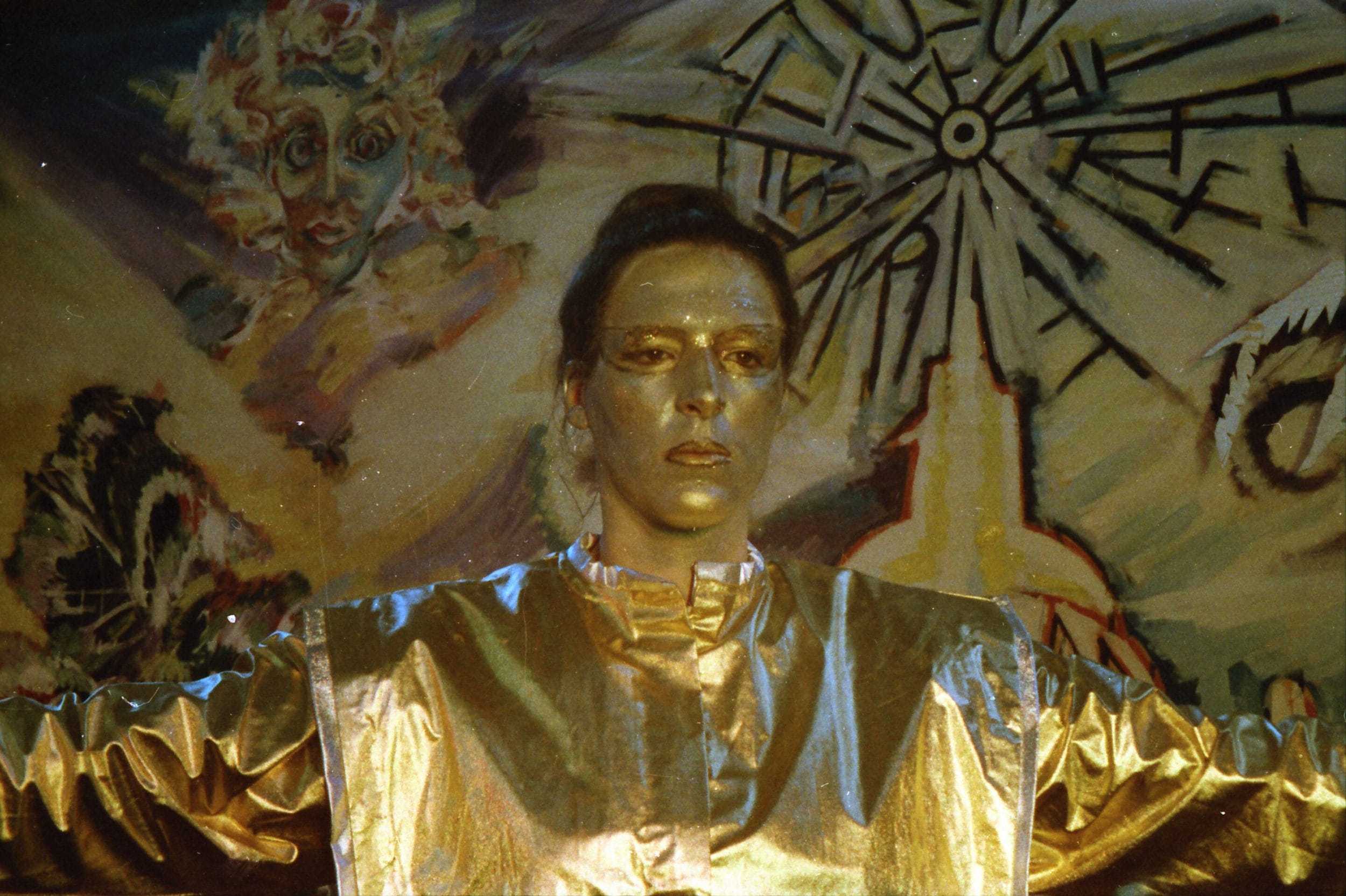 How else to explain her "yes, I will!" reaction at the October Gallery in London which she was casually visiting when Chili Hawes, in need of more actors for a stage production, invited her to join that studio ensemble of the Theater of All Possibilities. Sally wound up playing Metal Woman in sublime gold make-up and joining whole-heartedly the far-flung endeavors of the Institute of Ecotechnics.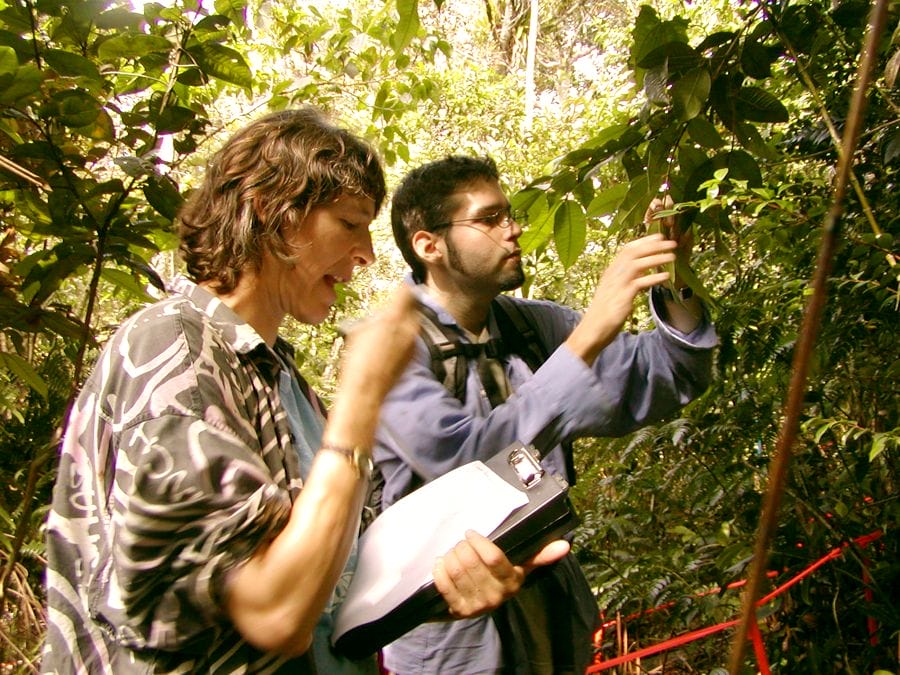 She played a key role in the early 1980s years establishing our sustainable tropical forestry project, Las Casas de la Selva, in Puerto Rico. Falling in love with the cutting-edge project and its mountain forest location, she gained the name we knew her by "Sierra". A mountain range indeed for her vision and unflappable ability to manage even in the midst of stress, drama, and chaos!
When she heard about the ground-breaking Biosphere 2 project from John Allen, even in simple sketches on the back of a napkin, she immediately said: "yes, that's for me!" At Biosphere 2 she helped manage the office with dozens of architects/draftsmen and engineers racing to produce blueprints ahead of the breakneck and mammoth construction of the world's first human-built mini-world while also training as a biospherian candidate.
Of course, she wound up in Biosphere 2, as our captain (along with emergency co-captain, Mark Van Thillo) and manager of the Food Systems. Reflecting on the achievements of Biosphere 2, I think that Sierra was our super-glue. She joked that having run a mental hospital in India earlier in her life was perfect preparation for managing seven other biospherians!! And no matter what was happening – and all hell was often breaking loose, with the steep learning curve we were all on figuring out how to be biospherians and manage a mini-biosphere, the media frenzy and power struggles outside, and t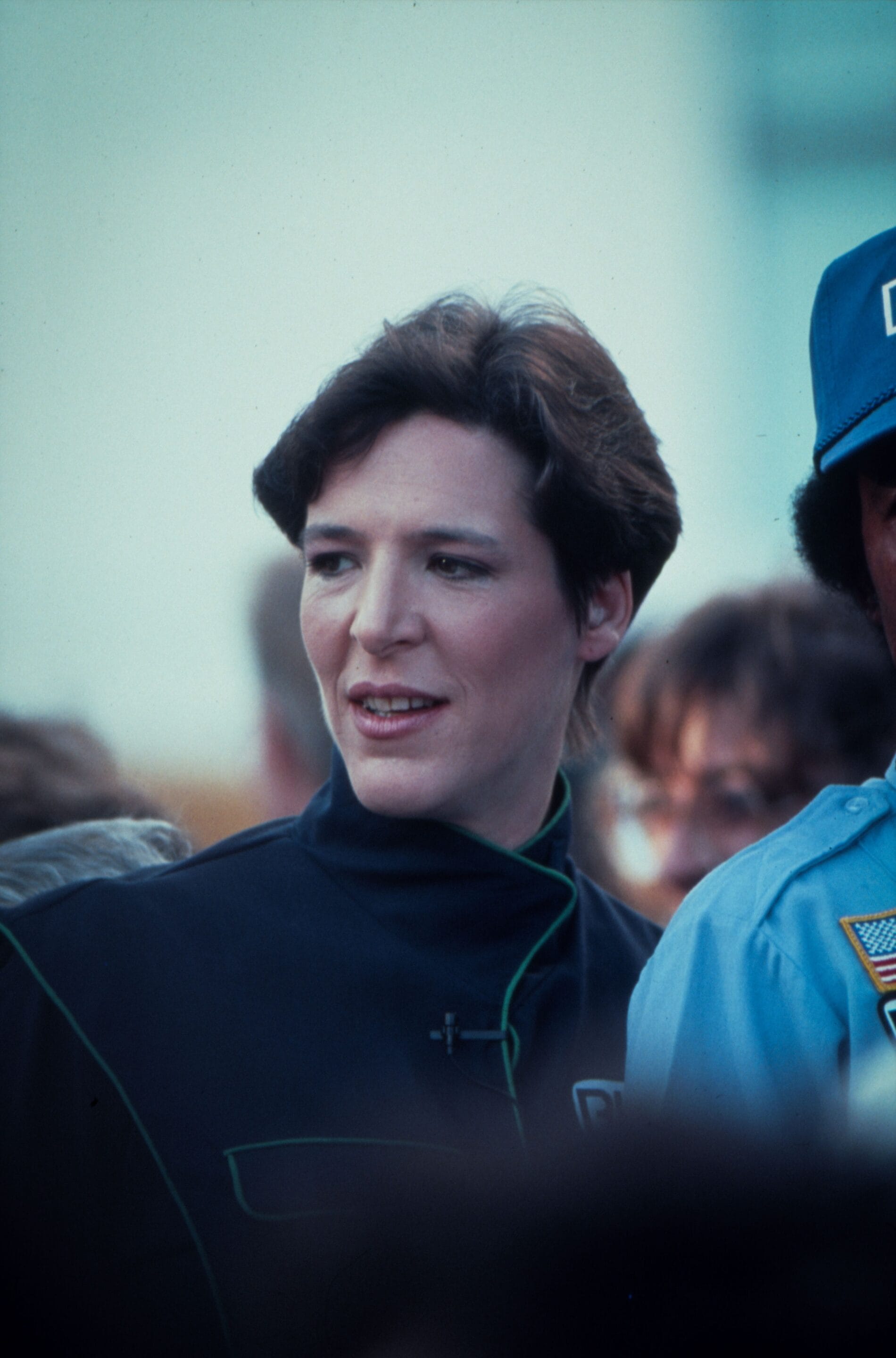 he historic role that Biosphere 2 was to play in bringing the idea of what a biosphere is to hundreds of millions worldwide.
Among her strongest passions were growing food and feeding people. Biosphere 2 was the perfect place then. She led the team turning a half-acre farm into one of the most productive agricultures ever – and without using chemical fertilizers or poisons. How could we have lived in Biosphere 2 without the special treats and food and drink for our feasts which Sierra took such pleasure in concocting: from banana wine to cheeses and sausages and a million ways to make our meals memorable and distinctive even while using the same ingredients.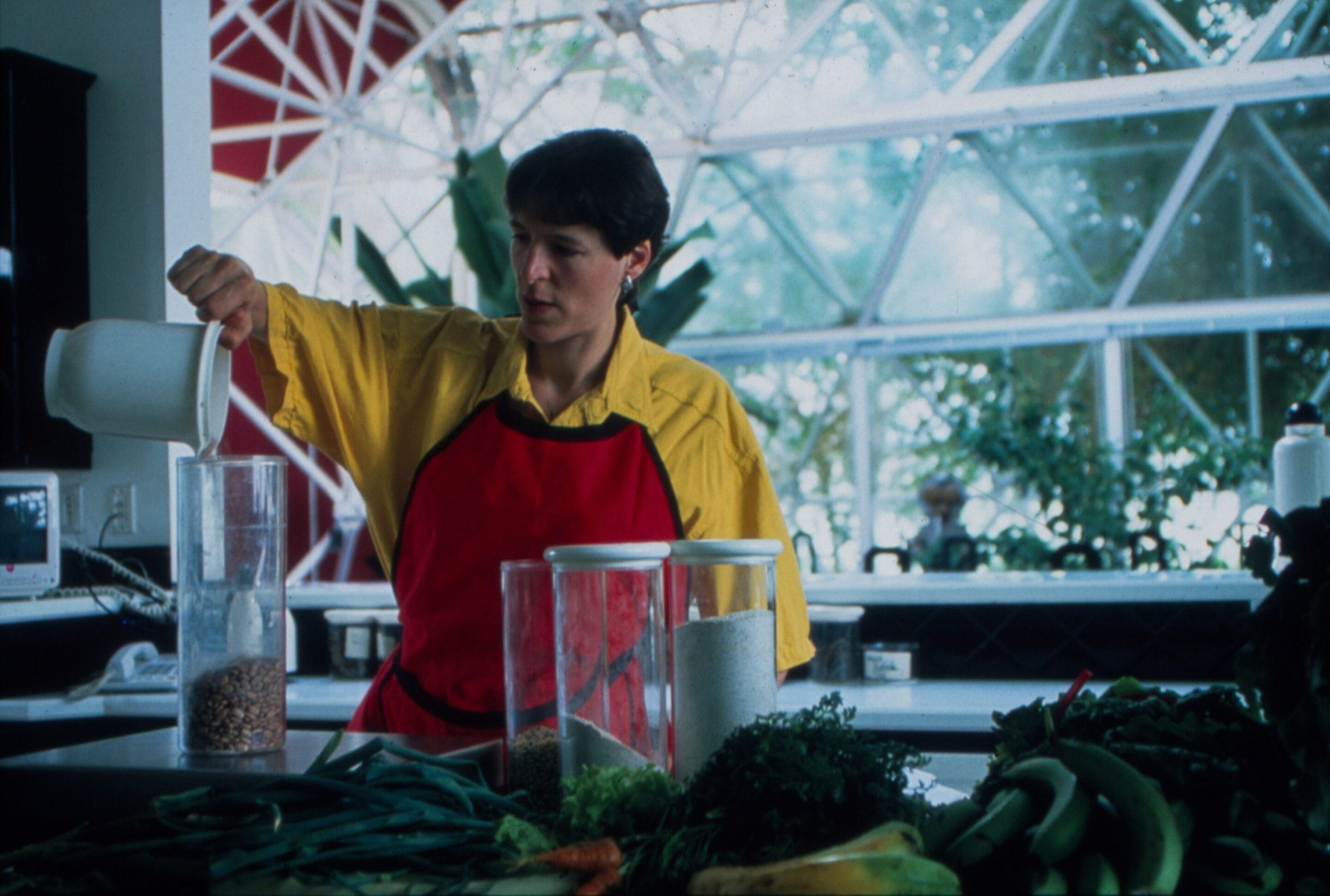 I was delighted when she started calling me her "Bio Buddy." Our desks in the Command Room faced each other, and we often ended our nights there; Sierra writing reports and planning our work, while listening to the BBC, me writing in my journal, or preparing our weekly news updates.
After Biosphere 2, Sierra returned to the rainforest she loved, helping manage Las Casas de la Selva for over a decade, helping turn it into a very important project for the island and the world of tropical forestry. She was also a key member of Synergia Ranch in New Mexico during those years, alternating her time. Of course, there she restarted a dormant vegetable garden, producing food for our community kitchen.  I also was excited to work with her for years as a fellow director of the Institute of Ecotechnics and at our annual Ecotechnic conferences.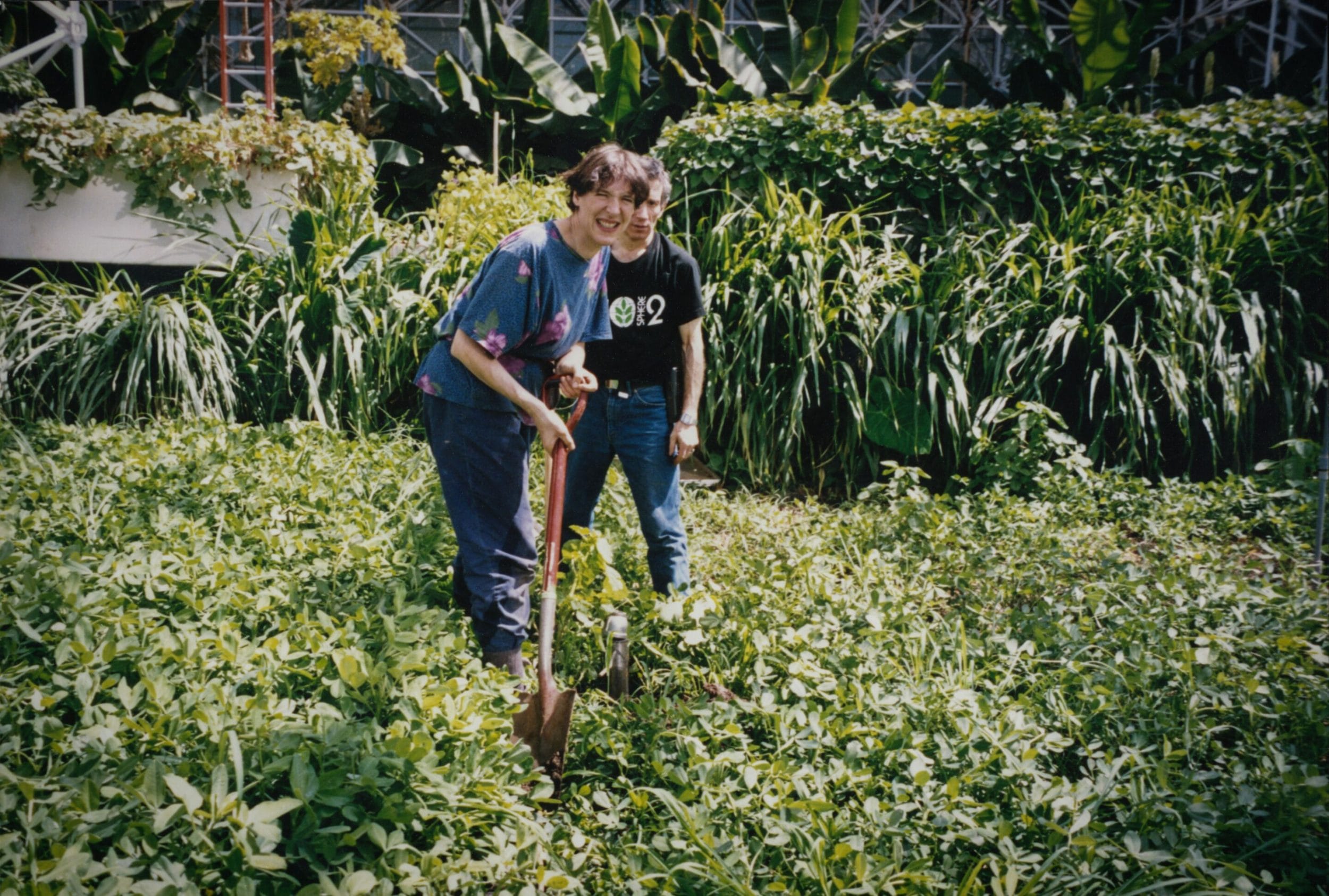 I helped Sierra with the forestry and ecological research program in Puerto Rico which brought teams of Earthwatch volunteers to the project for many years, measuring and remeasuring thousands of the 40,000 hardwoods that had been planted decades earlier. Sierra was inventive and unflappable. One example: she borrowed from the Institute of Tropical Forestry a heavy satellite phone so we could pick up GPS satellite coordinates as we laid out the random plots required for the research. Taking turns schlepping that beast of a device through rugged mountain terrain, we would sometimes stop and look at each other in dismay. The coordinates meant our plot plunged off the side of abrupt drop-offs, cliffs, and landslides. Sierra and I would stare at what lay ahead and laughing prepare to continue on all fours, carrying our precious equipment down implausible muddy slopes!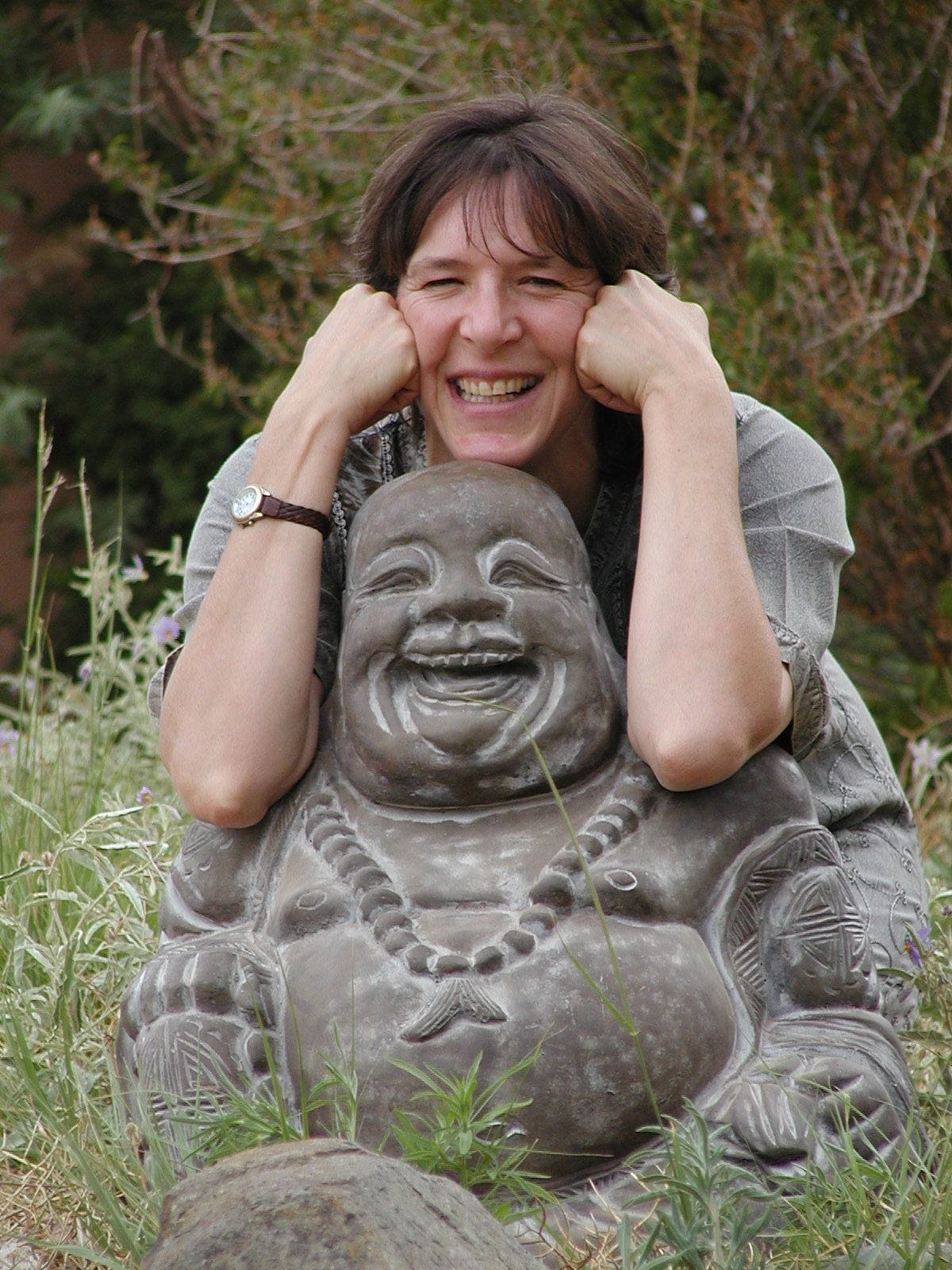 In these sad days following her unexpected death, I am struck that many have mentioned that they can't recall Sierra saying or doing anything negative. She had a disposition ready to be a friend to all the world, like the laughing Buddha she loved. Sierra was a natural teacher and educator, always ready to work with young people and share her deep knowledge and curiosity.
She followed her heart and spent the last period of her life working with her biospherian friends, Gaie and Laser, and the Biosphere Foundation, in Bali, a
place she loved, doing what she always loved: forestry, regenerative agriculture, and sharing with and teaching young people.
I'm thankful that Sierra wasn't taken from us before completing with Gaie and I the new edition of Life Under Glass and our interview with the BBC World Service, which aired just a day before she passed. And that she was able to be part of the Spaceship Earth film, sharing the excitement and legacy of her work with Biosphere 2.
She was one-of-a-kind. She enriched the lives of everyone lucky enough to work with her. I'll always treasure our friendship. We were part of making history.
Wherever her cosmic journey takes her, I know she's still planting seeds, growing life, and producing feasts to share.
---
A Word from Matt Wolf, Director and Stacey Reiss, Producer of "Spaceship Earth"
"We were so fortunate to be able to interview Sally for Spaceship Earth when she was passing through Los Angeles on her way back to Bali. Both producer Stacey Reiss and I were immediately inspired by her contagious laughter and effervescence. She really helped us to understand the joy of being inside Biosphere 2, and the satisfaction of finding creative solutions with a group of like-minded collaborators. It's inspiring that she brought that love for the biosphere to people around the world, especially youth, and we hope that her spirit moves others through her special presence in our film."