Allan Badiner and Alex Grey with Allyson Grey and Rick Strassman will lead a discussion on Buddhism, Psychedelics and Visionary Art celebrating the publication of
Zig Zag Zen: Buddhism and Psychedelics (New Edition)
, Edited by Allan Badiner and Alex Grey.
Tuesday, May 19th
6:00 pm
Collected Works Bookstore & Coffeehouse
202 Galisteo Street
Santa Fe, New Mexico
(505) 988-4426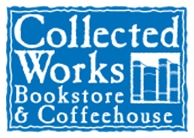 [su_spacer size="10″]
About Zig Zag Zen: Buddhism and Psychedelics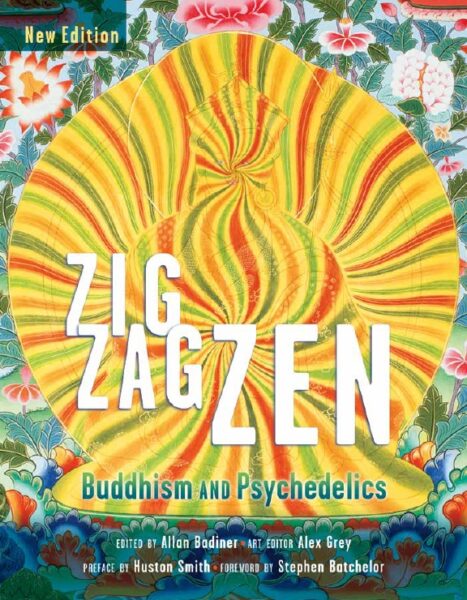 Buddhism and psychedelic exploration share a common concern: the liberation of the mind. This new edition of Zig Zag Zen: Buddhism and Psychedelics (Synergetic Press) has evolved from the landmark anthology that launched the first inquiry into the ethical, doctrinal, and transcendental considerations at the intersection of Buddhism and psychedelics. A provocative and thoughtful exploration of inner states and personal transformation, Zig Zag Zen now contains an expanded display of stunning artwork including pieces from Android Jones, Sukhi Barber, Ang Tsherin Sherpa, and Amanda Sage, as well as the original brilliant work of Robert Venosa, Mark Rothko, Robert Beer, Francesco Clemente, and many others, including more work by the pioneering visionary artist Alex Grey. Complementing these new images are original essays by such luminaries as Ralph Metzner and Brad Warner; exciting interviews with James Fadiman, Kokyo Henkel, and Rick Doblin; and a discussion of ayahuasca's unique influence on Zen Buddhism by David Coyote; all of which have been carefully curated to extend the original inquiry of authors Joan Halifax Roshi, Peter Matthiessen, Jack Kornfield, Ram Dass, Terence McKenna, Rick Fields and many others. Buddhism and psychedelics are inevitable subjects encountered on the journey to wisdom. Examined together, the reader may understand more deeply the essence of each.
Allan Badiner is the editor of Zig Zag Zen: Buddhism and Psychedelics (Synergetic Press), as well as two other books of collected essays, Dharma Gaia: A Harvest in Buddhism and Ecology (Parallax Press, 1991) and Mindfulness in the Marketplace: Compassionate Responses to Consumerism (Parallax, 2002). Allan is a contributing editor of Tricycle magazine, and serves on the board of directors of Rainforest Action Network, Threshold Foundation and Project CBD. He has been a student of Zen Master Thich Nhat Hanh for more than 25 years.
Alex Grey, a renowned American visionary artist specializing in spiritual and psychedelic art, is the art editor of Zig Zag Zen. His work spans a variety of forms including performance art, sculpture and painting. He is a member of the Integral Institute, on the board of advisors for the Center for Cognitive Liberty and Ethics and is Chair of Wisdom University's Sacred Art Department. He and his wife Allyson Grey are co-founders of the Chapel of Sacred Mirrors, CoSM, a non-profit church supporting Visionary Culture in Wappinger, New York. www.alexgrey.com & www.cosm.org.
Allyson Grey is an artist and co-founder of the Chapel of Sacred Mirrors, CoSM. Her abstract works have been exhibited at Stux Gallery in New York City and the Museum of Fine Arts, and is a contributor to Zig Zag Zen. She has been a partner to Alex Grey since 1975. www.allysongrey.com/ & www.cosm.org
Rick J. Strassman, MD, is clinical associate professor of psychiatry at the University of New Mexico School of Medicine. He is the author of DMT: The Spirit Molecule, co-author of Inner Paths to Outer Space, co-producer of the film, DMT: The Spirit Molecule, and a contributor to the new edition of Zig Zag Zen. His most recent book is DMT and the Soul of Prophecy. www.rickstrassman.com