Ayahuasca is More than a Headline
As it becomes more widespread, more people are sharing their experiences with ayahuasca. This traditional indigenous plant medicine has been making its way beyond the its home in the rainforests of the Amazon to major urban centers around the world. An increasing number of people, including spiritual seekers, travelers and even celebrities have been coming out and sharing their experiences. As more people are trying it, more people have been sharing their stories. More major news outlets including BBC, The Guardian, New York Times, and so many more mainstream news sources are sharing stories describing the effects of ayahuasca.
Respecting Indigenous Ayahuasca Traditions
But beyond any news articles are the stories of the people who have known ayahuasca for generations. The wisdom shared by people trained in shamanic lineages is more difficult to access; most of them don't have blogs. To hear these stories requires multiple translations and perilous journeys to remote villages deep in the rainforest.
Ayahuasca Reader includes mythic narratives and testimonies from members of the indigenous groups who use the drink, themselves: the Siona, Cashinahua, Huaorani, Desana, Witoto, Yagua, Inga and Secoya. Some of these materials have been published previously, often in difficult to find journals and books in a variety of languages. In other cases, the authors have produced their contributions expressly for this anthology.
Ayahuasca Reader has a collection of these stories with notes and insights from the editors to provide deeper understanding of the original contexts of ayahuasca use and an examination of how changing cultural circumstances are shifting its ritual practice.
The Story of a Young Shaman
The following narrative from Ayahuasca Reader is by Yagua shaman Alberto Prohaño as told to French anthropologist Jean-Pierre Chaumeil places an emphasis on ritual itself and the actual songs used to invoke the different plant-spirits. The individual performance of the shaman facilitates a social function in connection with themythic presences invoked through the act of singing. This text also exemplifies theole of ayahuasca as a milestone in the path of knowledge, following other sacred plants such as piripiri (Cyperaceous sp.) and tobacco…
Excerpt from "Initiation Experience"

On the third moon, múwa wánditu, I again drank ayahuasca mixed with tobacco juice and piripiri. At each stage, a new plant is added, with the goal of knowing them all, little by little. My deceased father and I sang the song to call the mother of ayahuasca:

ramanujúhamwo ranatutéhi

yeee yeee yeee yeeeeeeee
yeee yeee yeee yeeeeeeee
ramanujúhamwo rándia tuwatiaténdehi
ramanujúhamwo rándia tuwatié ndaria
yándatiénda npënanujú
hastëro rimínda
yátí yátí yátí yátí yátí
yátí yátí yátí yátí yátí

mother of ayahuasca, I'm going to call you
(call) yeeee yeee yeeeeeeeee
mother of ayahuasca, I don't know you (I want to know you)
I still don't know you
teach me how to heal
I want to extract virotes
come, come, come, come, . . .

The ayahuasca takes me, drags me along. Images appear. My father questions me. I answer that I don't see anything. He gives me another dose that I swallow. The colors dance, the lit candle appears . . . on a second plane, animals torn to pieces parade past . . . my bones come out of their joints; the creatures devour my flesh . . . But a sweet voice echoes in my head: "Look! Study! Learn about this plant. Smoke, but do not spit. Swallow all the smoke. Don't let even a mouthful escape."
I suck on the cigar pë pë pë pë . . . a strange smell invades me, sweet and perfumed, followed by the image of a thick ayahuasca trunk. Whispering comes from below the vine, as if someone were speaking or, perhaps, singing:

eeeee eeeee eeeee
I'm the mother of ayahuasca
come closer and light this cigar

I take several puffs on the enormous cigar that they give me and I swallow all
the smoke:

uuuuuuuuuuuuuuuuuuuu.

A perfume penetrates my cold body. The images go up in smoke, little by little. I'm normal again. My bones are welded together. Then they appear again . . . I'm  scared . . . they calm once more only to return again. Terrifying images parade before my eyes. My bones explode . . . there are toothless monsters that fly, jump, fall, hang in the air, bite and devour each other . . . I want to leave, but a voice intervenes:
"Drink a little bit more. You'll see everything."
This account, based on field work done in 1976 by French anthropologist Jean-Pierre Chaumeil, is by Yagua shaman Alberto Prohaño, current leader of the community Edén de la Frontera on the Marichín River. In this text, which is fragmentary out of necessity, Alberto goes over some of the most intense moments of his own initiation. At that time, he still had not reached the age of twenty (in 1976, he was thirty-five). He was initiated by his father, Xenon, who received his shamanic knowledge from his father. In the following years, Alberto practiced with his maternal uncle José Murayari, who worked to perfect the knowledge of his future son-in-law by means of the periodic ingestion of new plant decoctions.
Carrying the Wisdom of Ancient Practices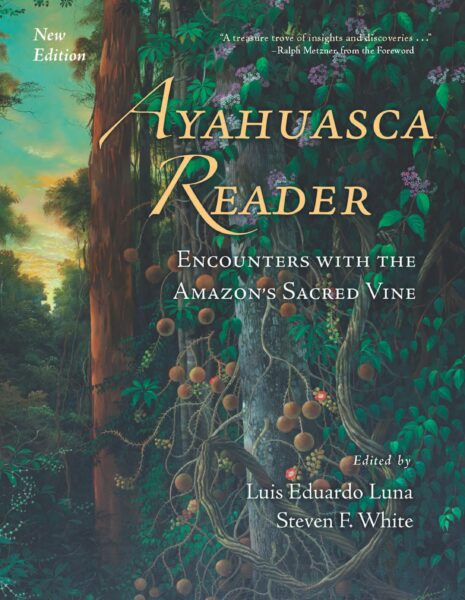 In Ayahuasca Reader: Encounters with the Amazon's Sacred Vine you'll find myths and stories passed down over generations of Amazonian healers, personal testimonies of experiences with Amazonian cultures, a selection of hymns and texts from the religions using ayahuasca as a sacrament, writings from well-known figures in the literary world on the lasting influence of their experience, and a section of transcendental visionary color art to illuminate our understanding of ayahuasca.
Read more about these practices and dive into the deep traditions of Amazonian plant medicine wisdom. Support our Indiegogo campaign and you'll receive your copy of Ayahuasca Reader, and you can check out the other incentives we have to take your further in your exploration of consciousness and planetary culture.

Honoring Diversity at the World Ayahuasca Conference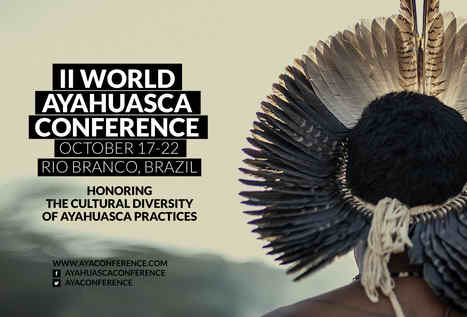 You can join the largest gathering of the world ayahuasca community, meeting. Come together with more than 100 speakers who will share knowledge and expertise through presentations and cross-cultural roundtables, and take this opportunity to learn more about the diverse indigenous communities participating in the conference, and to take in film, music, art… and much more.