Reclaiming the Commons
Biodiversity, Indigenous Knowledge, and the Rights of Mother Earth
Vandana Shiva
July 2020
6 x 9 inches
Reclaiming the Commons: Biodiversity, Indigenous Knowledge, and the Rights of Mother Earth lays out the scientific, legal, political, and cultural struggle to defend the sovereignty of biodiversity and indigenous knowledge. Corporate war on nature and people through patents and corporate Intellectual Property Rights has unleashed an epidemic of biopiracy resulting in important legal battles fighting efforts to patent the rights to many plants, including basmati, neem, and wheat. The author presents details of the specific attempts made by corporations to secure these patents and the legal actions taken to fight them. The book goes beyond the legal struggle to position the necessary solutions to corporate control including the exploring the Rights of Nature and proposing a framework for a Universal Declaration of the Rights of Mother Earth. It is the first detailed legal history of the international and national laws related to biodiversity and Intellectual Property Rights.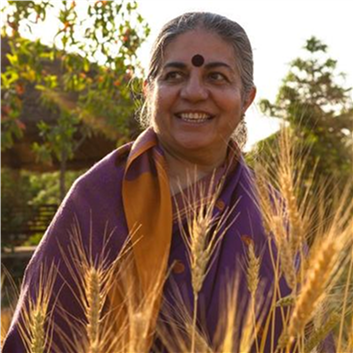 Vandana Shiva is a scholar, author, environmental activist, and food sovereignty advocate. Her pioneering work around food sovereignty, traditional agriculture, and women's rights, particularly in the Global South, has created fundamental cultural shifts in how the world views these issues. She is one of the leaders and board members of the International Forum on Globalization (along with Jerry Mander, Edward Goldsmith, Ralph Nader, and Jeremy Rifkin), and a prominent figure of the global solidarity movement known as the alter-globalization movement. She is a member of the scientific committee of the Fundacion IDEAS, Spain's Socialist Party's think tank and the International Organization for a Participatory Society. She received the Right Livelihood Award in 1993, an honor known as an "Alternative Nobel Prize". She has received numerous other awards and honors for her work including the "Save the World" award in 2009 and the Sydney Peace Prize in 2010. Shiva has authored more than twenty books and is currently in Delhi and in Dehradun, Uttaranchal at Navdanya, a community-based women-led organic farm, school, café, and farmer-collective founded by Dr. Shiva that promotes agroecology, seed freedom, and a vision of Earth Democracy, seeking justice for the Earth and all living beings.
July 2020
Watch for our newsletter with release information.
Subscribe to our mailing list below for updates.