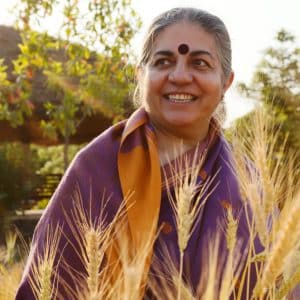 Vandana Shiva
---
Dr. Vandana Shiva is an author, physicist, ecologist, and advocate of biodiversity conservation and farmer's rights. Her pioneering work around food sovereignty, traditional agriculture, and women's rights created fundamental cultural shifts in how the world views these issues. 
Along with Jerry Mander, Edward Goldsmith, Ralph Nader, and Jeremy Rifkin, Dr. Shiva is a leader and board member of the International Forum on Globalization and a prominent figure of the global solidarity movement known as the alter-globalization movement. 
Dr. Shiva founded Navdanya, an organization that promotes agroecology, seed freedom, and a vision of Earth Democracy, seeking justice for the Earth and all living beings. She has authored more than 20 books including Reclaiming the Commons: Biodiversity, Indigenous Knowledge, and the Rights of Mother Earth (Synergetic Press, 2020), Philanthrocapitalism & The Erosion of Democracy: A Global Citizens' Report on the Corporate Control of Technology, Health, and Agriculture (Synergetic Press, 2022) and Agroecology and Regenerative Agriculture: Sustainable Solutions for Hunger, Poverty, and Climate Change (Synergetic Press, 2022). 
Dr. Shiva is a member of the scientific committee of the Fundacion IDEAS, Spain's Socialist Party's think tank and the International Organization for a Participatory Society. She received the Right Livelihood Award in 1993, an honor known as an "Alternative Nobel Prize". She has received numerous other awards and honors for her work including the "Save the World" award in 2009 and the Sydney Peace Prize in 2010. Dr. Shiva's life and work is the subject of the award-winning 2021 documentary, "Seeds of Vandana Shiva."