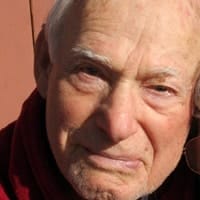 Myron J. Stolaroff, M.S.
---
Myron J. Stolaroff (1920 - 2013) was a researcher and author best known for his work in psychedelic psychotherapy. Stolaroff held a master's degree in electrical engineering from Stanford University and in the 1940s and 1950s worked for the recording equipment manufacturer, Ampex. Along with fellow engineer Harold Lindsey, Stolaroff co-designed a reel-to-reel tape recorder, which eventually won the company its first Grammy Award for Technical Achievement.
Stolaroff eventually left the engineering field to conduct psychedelic research and in 1960, he founded the International Foundation for Advanced Study in Menlo Park, Calif. There, he studied the effects of mescaline, LSD, and other drugs on human creativity. Those studies ended in 1965 when the Food and Drug Administration revoked research permits, but Stolaroff went on to privately continue his psychedelic-assisted therapy research using unscheduled compounds until  the Controlled Substances Analogue Enforcement Act of 1986 went into effect.
In an essay published in the book Zig Zag Zen: Buddhism and Psychedelics (New edition by Synergetic Press, 2014), Stolaroff wrote of the importance of honoring the psychedelic experience. "A very important aspect of employing psychedelics is to acknowledge fully the graces that have been received," he wrote. "This is done through appreciation and gratitude, which are best expressed by determinedly putting into effect in one's life the changes that have been indicated."
Stolaroff served on the board of the Albert Hofmann Foundation, as a consultant to the Heffter Research Institute and as an advisory board member for the Center for Cognitive Liberty and Ethics.