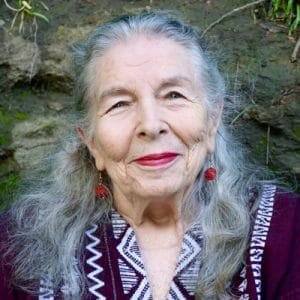 Ann Shulgin
---
Ann Shulgin co-founded Transform Press in 1991 with her husband, Sasha Shulgin, out of their shared passion and commitment to an uncensored examination of psychoactive compounds. Through the Press they co-authored and published PiHKAL: A Chemical Love Story (1991) and TiHKAL: The Continuation (1997), the two cult classics based on their psychedelic experiences. The publications generated regular discussion groups on psychedelics and psychopharmacology which the Shulgins led together for many years. They also contributed jointly to several other publications including, The Secret Chief, The Secret Chief Revealed, Entheogens and the Future of Religion, and Ecstasy: The Complete Guide.
Ann has served as a lay therapist facilitating the use of MDMA and 2CB in therapeutic settings while those substances were still legal. She brings a Jungian orientation to her examination of psychedelic experiences, with a particular emphasis on the integration of the Shadow and an overarching theme of spirituality and unification with the divine in all things.
Since Sasha's passing, Ann serves as the advising authority on the Shulgin research legacy and the Shulgin estate. She continues to write and give talks within the psychedelic community.