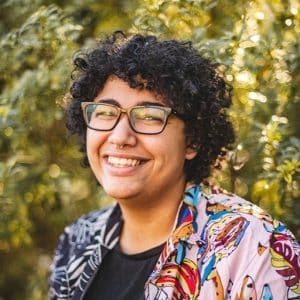 Aleks Taylor
---
Aleks (they/he) works at Fireside Project as a Support Line Supervisor to aid volunteers in providing quality care and support to those who choose to reach out to us. In addition, Aleks is a Professional Counselor Associate, working with an LGBTQ+ therapy center as a clinical therapist, and has completed their education to become a Licensed Psilocybin Facilitator in the state of Oregon. Aleks earned their Master's degree in clinical mental health counseling with a focus in mindfulness-based transpersonal counseling from Naropa University in Boulder, Colorado.
As a BIPOC member of the LGBTQIA+ and neurodivergent communities, Aleks has a passion for ensuring members of these communities, and other underserved populations, have equitable access to the healing power of psychedelic medicines.
Over the past 12 years, Aleks has gained work and educational experiences in education, world religions, equity and social justice work, psychology and counseling, neurodivergent studies, gender studies, and psychedelic studies. Through foundations dedicated to diminishing financial barriers to access facilitator training, Aleks will be helping support new cohorts of Oregon psilocybin facilitators in a way that puts marginalized voices at the forefront of the psilocybin movement and will be creating equity plans for future service centers in Oregon.
When Aleks is not on the line, you may be able to find them on tour following their favorite bands, in the woods mushroom and bone hunting, poorly playing ukulele, or playing (and winning) board games.