This is a private link. Please do not share the password with anyone. Thanks!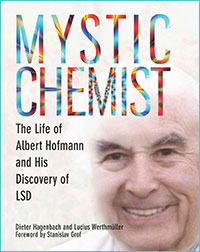 Albert Hofmann is undoubtedly the best known chemist of the 20th century, and his discovery of LSD had a crucial influence on science, society and culture. In 1943 Hofmann experienced the psychedelic effect of the mysterious substance while self-experimenting on his legendary bicycle trip.
Review Copy:
Click here to view or download this PDF
Press Packet
Excerpts:
Introduction
The First Trip
Sounds of the Sixties
Divine Lightning
Trips Around the World
Encounter With Death
Source of Inspiration
The Ultimate Journey
Photos:
[simpleviewer gallery_id="1″]
Caption and photo credit information included in photo meta data.
Download large, high-res versions of the photos here:
Cover
Albert with Molecule
Hofmann and the Dalai Lama
Erwin Wiedemann, Walter Kreis and Albert Hofmann
Chemistry
Dordogne 1990
Dieter Hagenbach
Lucius Werthmüller
Drop Acid Not Bombs, Anti-War Moratorium