David Suzuki called the UN Paris agreement a milestone in the Anthropocene Era, and an indication that "the Age of Humans won't necessarily lead to an age of destruction." (The Guardian) While I'm as optimistic as they come, it's clear that humanity needs to act swiftly and on a grand scale to effect and uphold the major changes that must occur to prevent a planetary catastrophe.
One of my favorite eco-heros, Tony Juniper, a campaigner, writer, and sustainability adviser reports from Paris conference this month: "Increased atmospheric CO2 is doing much more than warming the Earth, it's also acidifying oceans, something that is already having major impacts on ocean ecology in the Southern Ocean and the North Atlantic. Likely effects: more CO2 in the atmosphere, more jellyfish … We really have to put the brakes on carbon dioxide and very fast. These effects are already becoming very large and there are huge uncertainties as to how this will affect among other things food production."(The Ecologist)
Atmospheric CO2 levels are the highest they have been in millions of years and the impacts of climate change are also impacting corporate and government balance sheet at such levels that corporations are starting to sit up and take notice. Trade can no longer trump climate, as the NAFTA's policy has upheld for decades. There is no part of the economy that doesn't depend on Nature, says Juniper. If there is no Nature, he argues, there can be no economy, no growth, no business.
The solution, Tony says, is a shift to a "bioeconomy" where our economic system is a subset of Nature, and not the other way around. A world where the technosphere is designed to support and sustain the biosphere, not use it up. See his talk at TEDxWWF.
[su_youtube url="https://www.youtube.com/watch?v=DvUjJrIzUj4″ width="640″ height="360″]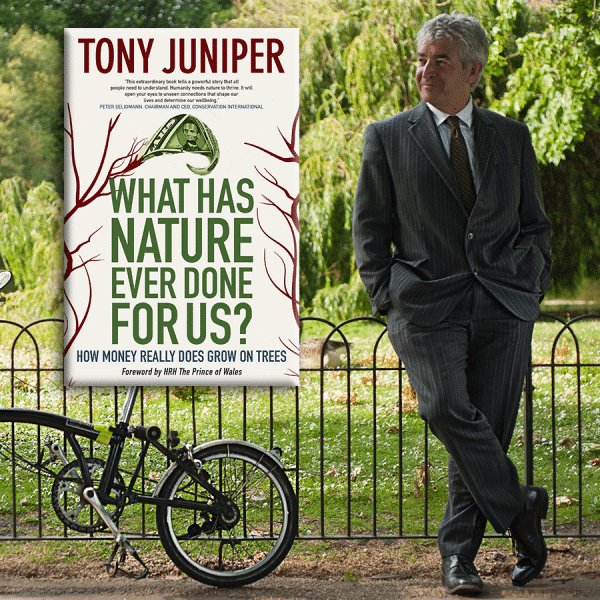 Learn more about how it pays to be on the side of Nature in Tony Juniper's  book, What Has Nature Ever Done for Us? How Money Really Does Grow on Trees with a foreword by Prince Charles.
Read the Foreword by Prince Charles and Preface for Free Here.