"The Search for a Unique, Non-repeatable Experience"
Interview with John P. Allen, Kathelin Gray & Hans-Ulrich Obrist featured in Mousse
John P. Allen, author, poet, and visionary inventor of the Biosphere 2 project talks with director, writer and curator, Hans-Ulrich Obrist in an interview featured in the Italian contemporary art magazine Mousse. The full interview can be read in Mousse 57, February-March 2017.
Within the interview, Obrist sets out to unravel the foundational epiphanies that served as the springboard for the conceptualisation of Biosphere 2. Further discussing the major ideas, philosophies and great thinkers that filled Allen with the inspiration that fed into this milestone project. The primary epiphany being Allen's realisation "that humanity is part of the biosphere and the biosphere is the dominant overall unity that comprises everything."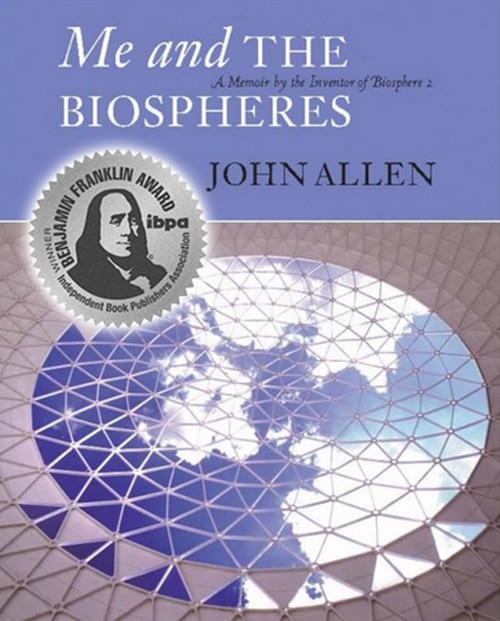 In today's world, where the problems of climate change, pollution and ecological destruction become ever more pressing, we often tend to forget about the things which have already and are still being done for the environment, in attempts to align man with the natural world.
For those wishing to learn more about John Allen, his singular life, and the field of Biospherics, we recommend checking his definitive autobiography and memoir: Me and the Biospheres; A Memoir by the Inventor of Biosphere 2. Me and the Biospheres is a fervent call to reawaken to the blessing of our beautiful home, Biosphere 1, the Earth.
More About John P. Allen (nom de plume Johnny Dolphin)

John 'Dolphin' Allen is an Oklahoma-born author, poet, playwright, engineer and metallurgist who invented, envisioned, and co-founded the Biosphere 2 project. Biosphere 2 was the world's largest laboratory for global ecology, comprising of a series of airtight chambers making up a closed life systems ecological unit where eight people took up an experimental residence for 2 years in order to better understand how to live sustainably within a closed system.
Allen also conceived and co-founded nine other projects around the world, pioneering in sustainable co-evolutionary development. He is currently Chairman of the Institute of Ecotechnics (IE) Corporation. IE is an International Non-Governmental Organisation which owns and operates innovative sustainable ecological projects in different biomes worldwide such as the R.V. Heraclitus, or Las Casas de la Selva, among many others.