In Times of Uncertainty
We live in uncertain times with a wavering hook looming over the future of our species. This year we have seen the Arctic's strongest sea ice breaking up for the first time on record, alongside the droughts and floods, earthquakes and volcanic eruptions around the planet. Have we underestimated the importance of ecology ('the house') to the survival of our organism, advancing only science and technics? But we don't want to be dour – Mark Nelson hasn't lost hope in these times of great uncertainty.This is where the Biosphere 2 project comes in!
Lessons from Biosphere 2
Biosphere 2 consisted of seven biomes within a three and a half acre closed-ecological system in Oracle, Arizona. Designed and constructed from 1987-1991, it was the largest experiment in global ecology ever built. From 1991 to 1993 eight researchers, called 'Biospherians', undertook an experiment in which they lived fully enclosed within the structure for two years. Twenty-five years since the crew of eight completed that ground-breaking human experiment and Biosphere 2 continues to operate as an educational apparatus to study planetary workings and serves as a beacon of hope with a message grounded in harmonizing human actions with nature .
Dr. Mark Nelson, ecological engineer, closed-systems ecological researcher and member of the eight-person Biospherian crew, recounts his experiences as a participant and steward of this 'mini-world', in his new book Pushing Our Limits: Insights from Biosphere 2.
---
Future Primitive Interview with Mark Nelson
Deepening the discussion, Dr. Nelson was recently interviewed on the Future Primitive Podcast by Joanna Harcourt-Smith and Jacob Aman, providing illuminated understandings and flowering wisdom on how to cultivate a new attitude toward our planet.
In this podcast, Dr. Nelson, nudges us gently back toward the sentiment of global stewardship, reminding us that how we live our lives affects the planet, although we are not able to see those effects in their immediacy. Living within Biosphere 2, Biospherians were closely attuned to their fragile environment in a visceral way, with each and every decision having a tangible impact on the functioning of the whole system.
One of the most crucial insights that we can draw from Nelson, and the Biosphere 2 project is that we already live in a closed ecological system, Biosphere 1, the Earth!  We can re-empower ourselves with the knowledge and know that what we do as individuals makes a difference to the outcome at large.
---
Upcoming Author Events 
September 10th, 1:00 pm, Talk @ Kew Royal Botanic Gardens, London
'Biosphere 2's Bold Experiment in Global Ecology' with Dr. Mark Nelson & Sir Ghillean Prance. If you would like to attend please contact KewScience@kew.org. Please note that places are limited.
September 11th, 12:30 pm, Seminar Talk @ The Linnean Society of London
'Biosphere 2: Lessons & Relevance to Global Ecological Challenges' with Dr. Mark Nelson & Sir Ghillean Prance. You may register for the event for free via this link.
September 13th, 5:00 pm, Talk @ Eden Project Botanic Gardens, Cornwall
'Insights from Biosphere 2', tickets are available online via the Eden Project website and event Facebook group.
September 18th, 6:30 pm,  Talk @ the October Gallery, London
'Ecotechnics, Biospherics and Biosphere 2: Insights for the Anthropocene.' Click here to register and get tickets.
September 27th, 7:00 pm,  Talk & Book Signing @ Mostly Books Bookstore, Tucson
For more information about this event, please visit Mostly Books' Website.
November 10th, 10:00 am, Biospherics Workshop @ Santa Fe Botanical Gardens, NM
'Ecotechnics & Biospherics Workshop', register in advance through this link.
---
More About Mark Nelson
Dr. Mark Nelson is a founding member and Chairman of the Institute of Ecotechnics (UK/USA) which consults to innovative field projects in challenging biomes around the world. Such projects include the world city project, the October Gallery or the ocean biome project, the R.V Heraclitus. Nelson's research includes closed ecological systems, ecological engineering, restoration of damaged ecosystems and wastewater recycling. He was Direction of Space and Environmental Applications for Biosphere 2, and a member of the eight-person 'Biospherian' crew for the first two-year closure of the experiment, 1991-1993. His latest book, Pushing our Limits: Insights from Biosphere 2, tells of his experiences and lessons learned during his experimental enclosure. He is also the author of The Wastewater Gardener: Preserving our Planet One Flush at a Time, and Life Under Glass: The Inside Story of Biosphere 2 (with Abigail Alling & Sally Silverstone).
Praise for Pushing Our Limits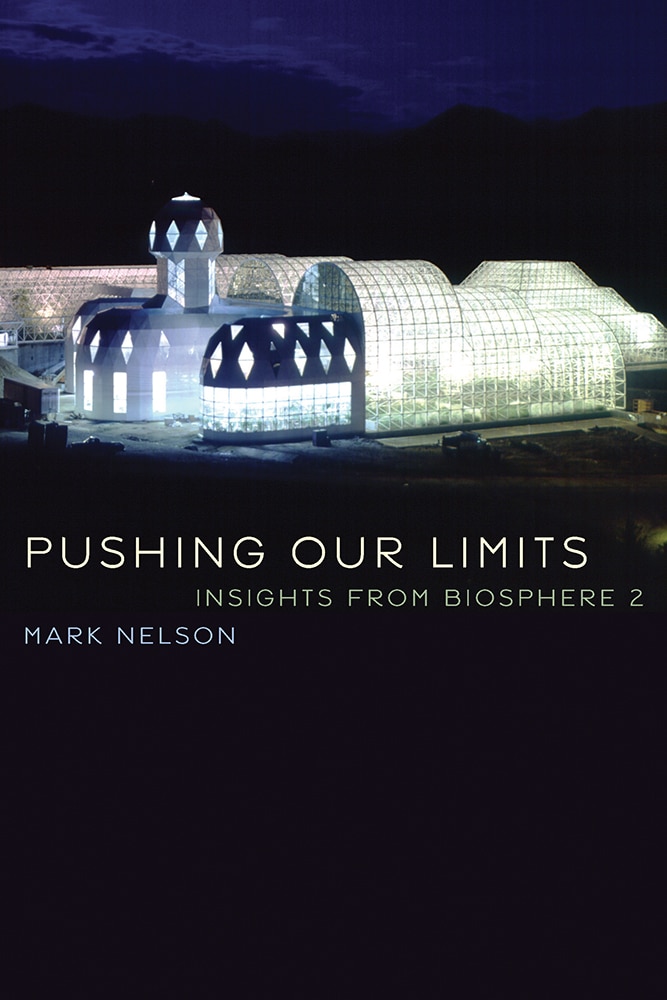 "A fascinating account of the largest, longest, and most important experiment in closed ecosystems ever conducted."—Chris McKay, Senior Scientist, NASA
"In the early 1990s, eight people sealed themselves into a self-contained eco­system in the Arizona desert. Two decades later, Mark Nelson reflects on his experience inside Biosphere 2 as a microcosm of our global challenges with water, food, and energy. Only with a deep understanding of the biosphere's workings, Nelson argues, can humanity craft an ethical relationship with the planet Earth."—Melissa L. Sevigny, author of Under Desert Skies: How Tucson Mapped the Way to the Moon and Planets