"Spaceship Earth" Documentary on Biosphere 2 Premieres at Sundance Film Festival
Last weekend, some of our authors, John Allen and Mark Nelson, along with publisher, Deborah Snyder, attended the premiere of this long awaited film at the Sundance Film Festival in Park City, Utah. Audiences gave standing ovations. The film is based in part on the memoir by John Allen, Me & the Biospheres, and includes extensive interviews with authors Mark Nelson and Sally Silverstone, both authors of our next book, Life Under Glass, a second edition of the account they wrote while living inside.
"Spaceship Earth" unravels the compelling tale behind Biosphere 2 — the largest laboratory for global ecology ever built, comprised of seven biomes within a three and a half-acre closed ecological unit. Each biome was a carefully created replica of one of the various ecosystems on Earth. The film spans a fifty-year history of the small group of individuals who embarked on this extraordinary venture. Directed by Matt Wolf, Produced by Stacy Reiss (The Eagle Huntress).
Costing $200 million to build, Biosphere 2 was complete with a tropical rainforest, a grassland, a coastal desert, and even a coral containing ocean. From 1991 to 1993 eight researchers across different scientific practices, called 'Biospherians', began a two-year-long experiment in which they lived fully enclosed within the structure with the aim of studying how the environments would evolve, and if they could sustain human life. But just how did this wild experiment come to be? 
Chronicling back to San Francisco in the early 1960s, "Spaceship Earth" traces the journey of artist-engineer John Allen and his group of like-minded, free-thinking friends who set about making the earth a more sustainable place through theater, art, and ecologically driven projects. Together, the group formed the avant-garde theater troupe, the Theater of All Possibilities, mixing together noetics, science, and ecology with experimental theater. 
The group went on to establish several other projects including Synergia Ranch, an intentional community in New Mexico focused on ecology, architecture, and art. With Synergia Ranch as their headquarters, the group started to scale into even more ambitious projects, founding the non-profit organization the Institute of Ecotechnics (IE). IE's main goal has been the development and application of innovative approaches to harmonizing technology and the global biosphere.
The team embarked upon constructing their own hand-built sailing vessel from scratch, starting a sustainable forestry project in Puerto Rico, and even an art gallery in London. Their far-sighted scope ultimately led to their most inspirational project — Biosphere 2.
"Synergia's members hungered for knowledge and were always looking to one-up themselves, under the philosophy that life could be playful and meaningful if you were open to all possibilities. So in the late 1980s, Allen and his band of visionaries embarked on their most ambitious project ever: the construction of a biosphere that would sustain the lives of eight crew members for two years without any outside interference." — Matt Patches, "Spaceship Earth uncovers the goodness hidden in the debacle of Biosphere 2"
"In the end, Spaceship Earth is an epic story told over the course of 50 years about epic people. That we could imagine everyday humans being as epic as the Synergists and Biospherians is the invitation of the film. What would it take for a small group of people to set their vision and imagination on a wild goal and get up every day to accomplish it? Does that have to be such a wild proposition? Have we become too cynical? Has our belief in possibility diminished? If you need a reminder about the awesome creative potential of humanity, see this film." — Hariette Yahr , "A reminder about the power of Imagination", Modern Times, the European Documentary Magazine
Biosphere 2 was built as an educational apparatus to study planetary workings by replicating key components of earth's (Biosphere 1's) fantastic diversity, and observing how it evolved in a closed system. Beyond this, the Biospherians took the threat of ecological collapse seriously, wanting to develop a harmonic balance between ecology and technology, potentially suitable to colonize space, and gaining insight into how humans can better our impacts on earth's biosphere.
A Testament to the Power of Small Groups  
Ultimately, the story behind Biosphere 2, and the many initiatives driven forward by the Institute of Ecotechnics serve as a testament to the power of small groups. Wild dreams of envisioning a better world do not have to be cast-off as an idealistic pastime, but rather they can become an even more productive reality when put into an actionable plan. 
A Beacon of Planetary Stewardship 
Today Biosphere 2 continues to serve as a beacon of hope with a message grounded in harmonizing human actions with nature. One of the most crucial insights that we can draw from the Biosphere 2 project is that we already live in a closed ecological system, Biosphere 1, the Earth!  
We can re-empower ourselves with the knowledge and know that what we do as individuals makes a difference to the outcome at large. In the words of Buckminster Fuller:
"I've often heard people say: 'I wonder what it would feel like to be onboard a spaceship,' and the answer is very simple. What does it feel like? That's all we have ever experienced. We are all astronauts on a little spaceship called Earth." 
---
What Reviewers Said About Spaceship Earth 
"The film's larger frame is something more spiritual, an innate quest for knowledge and adventure whose principal crime was naiveté. Operating outside the usual government and academic realms for such projects, the Biosphere 2 personnel weren't prepared for the extent to which they'd be scrutinized and dismissed for that independence. Drawing on a wealth of archival materials as well as interviews with all surviving participants, "Spaceship" is an involving, oddly poignant tale that should have broad appeal to those on the lookout for distinctive documentary features." — Dennis Harvey, "'Spaceship Earth': Film Review for Variety"
---
Books on Biosphere 2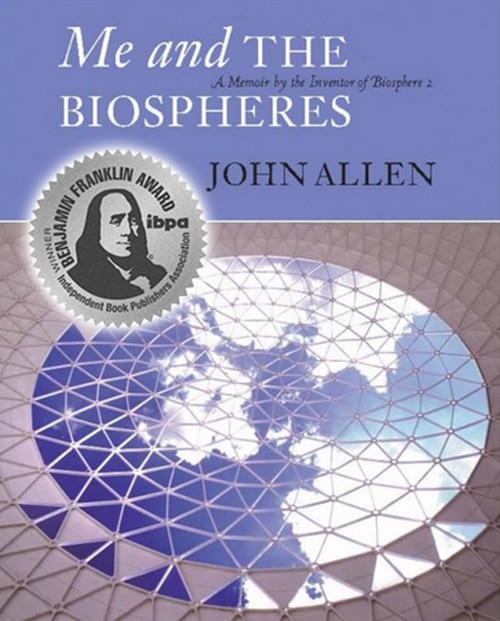 In today's world, where the problems of climate change, pollution and ecological destruction become ever more pressing, we often tend to forget about the things which have already and are still being done for the environment, in attempts to align man with the natural world.
The 2009 Winner of the Benjamin Franklin Award for Best Biography/Memoir,
Me and the Biospheres
 is the definitive autobiography of John P. Allen, inventor of the largest laboratory for global ecology ever built and one of the most luminous minds of our time. Contained within a magnificently designed air-tight glass and steel frame structure, Biosphere 2 covered three acres of Arizona desert and included models of seven biomes: an ocean with coral reef, a marsh, a rainforest, a savannah, a desert, farming areas and a micro-city. Eight people lived inside this structure for two years (1991-1993) and set world records in human life support, monitoring their impact on the environment, while providing crucial data for future manned missions into outer space. Anyone concerned with the current world trajectory will identify with Allen's uplifting account of the most ambitious environmental experiment ever undertaken. Humorous and Whitmanesque
, Me and the Biospheres 
is a tribute to the ingenuity and dauntlessness of the human mind and a passionate call to reawaken to the beauty of our peerless home, Biosphere 1, the Earth.
---
APRIL 2020
Life Under Glass: Crucial Lessons in Planetary Stewardship Learned from Two Years in Biosphere 2
What has it meant to the first crew who studied and cared for Biosphere 2? What was it really like to be sealed inside a giant laboratory for twenty-four months?
In Life Under Glass, crew members, Abigail Alling and Mark Nelson with co-captain Sally Silverstone present the full account of those two remarkable years. From the struggles of growing their own food, to learning how to help sustain their life-giving atmosphere, the general reader is offered a rare glimpse into how a group of dedicated researchers managed to surprise the world and fulfill their dream. In this updated edition, a new chapter reflects on the legacy of Biosphere 2 and the state of related scientific progress. Other crews will come and go, but no one else will face the risks, the uncertainties, and the challenges that this new breed of explorers did on Biosphere 2's maiden voyage. Here is the fascinating story of how it all unfolded—the dramatic tales of learning to live in a separate world under glass.