[vc_row full_height="yes" parallax="content-moving" gmbt_prlx_break_parents="99″ gmbt_prlx_smooth_scrolling="gambit_parallax_enable_smooth_scroll" gmbt_background_position="top" css=".vc_custom_1472622914838{padding-top: 0px !important;padding-right: 0px !important;padding-bottom: 40px !important;padding-left: 0px !important;}" gmbt_prlx_image="7623″][vc_column css=".vc_custom_1456855126936{padding-top: 20px !important;padding-right: 20px !important;padding-left: 20px !important;background-color: #ffffff !important;}"][vc_column_text css=".vc_custom_1476445849395{border-top-width: 0px !important;border-right-width: 0px !important;border-bottom-width: 0px !important;border-left-width: 0px !important;padding-top: 0px !important;padding-right: 20px !important;padding-bottom: 0px !important;padding-left: 20px !important;}"]
AYAHUASCA READER



ENCOUNTERS WITH THE AMAZON'S SACRED VINE
Edited by Luis Eduardo Luna and Steven F. White
Foreword by Ralph Metzner
J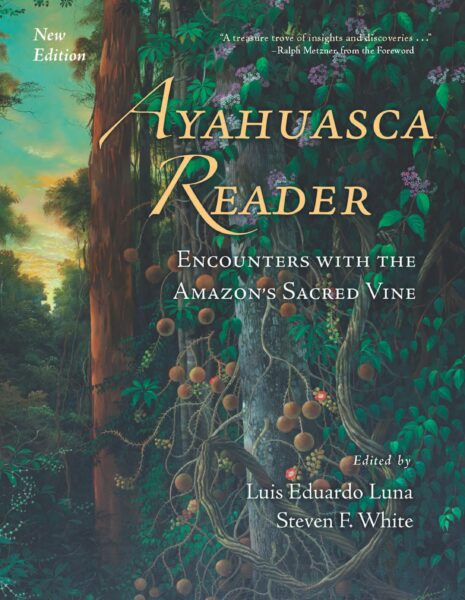 oin dozens of adventurers, anthropologists, artists, shamans, scientists and poets on a journey to remote regions of the Amazon and to the far reaches of the human psyche.
The new edition of the Ayahuasca Reader shares many distinct voices of the global ayahuasca movement: the researchers conducting clinical studies on its healing effects, the painters depicting the ineffable experience with visionary images, the indigenous people carrying the wisdom of ancestral traditions, and the stories of how ayahuasca has opened these individuals to their connection with the natural world and their true selves.
The Ayahuasca Reader is a five‐part anthology which shares myths passed down over generations of Amazonian healers, personal testimonies of encounters with Amazonian cultures, a selection of hymns and texts from the religions using ayahuasca as a sacrament, writings from well‐known figures in the literary world on the lasting influence of their experience, and a section of transcendental visionary color art to illuminate our understanding of ayahuasca. This comprehensive collection of writings has been expanded and updated, with a new section of ayahuasca inspired art and other resources to draw readers even deeper into the mythic mysteries of the Amazonian brew that has been gaining attention around the world.
The texts chosen for this book contain translations from nearly a dozen languages, representing the voices of many different Amazonian peoples and the diversity of their cultural approaches to working with ayahuasca. The contributors also include legendary scholars of Amazonian plant medicine such as Wade Davis, Dennis McKenna, and Richard Spruce; cultural icons like Allen Ginsberg and Alex Grey; and recognized shamans and spiritual leaders such as Raimundo Irineu Serra, Fernando Payaguaje, and Alberto Prohaño. This new edition also includes essays from prominent visionary figures including Graham Hancock, Jan Kounen, Jeremy Narby, Susana Bustos and others, plus a new section of visionary art depicting the ayahuasca experience.
Paperback, Hardback and eBook
496 pages | 7 x 9″ |  Black & White illustrations | 16-page color insert
[/vc_column_text][vc_column_text]
"The second edition of the Ayahuasca Reader confirms that it is an invaluable resource and a must‐read for anybody interested in ayahuasca."

—Jeremy Narby, PhD, Amazonian Project Director, Nouvelle Planete

"This book is a classic in the ayahuasca literature. The first edition published in 2000 was for many seekers of plant wisdom, their first dive into the vast published literature that exists around this fascinating medicine. Since then there has been an explosion of interest in this topic and an equally impressive growth in books and movies on ayahuasca, all purporting to be the definitive source of information. Luna and White's new edition of the Ayahuasca Reader incorporates many new articles and an entirely new section of color plates reproducing the works of some of the most admired artists whose work constitutes a rich illustrated chronicle of the visionary realms accessed via this amazing plant medicine. Even if you already have the first edition on your shelf, you will want to add a copy of the second edition to your collection (and you'll want to tell your friends too!)" 
–Dennis J. McKenna, PhD, ethnobotanist
"The update of the invaluable Ayahuasca Reader focuses on the particular South American vine that has become so popular globally and in its pages combines the scientific evaluation of the human interaction with the plant (pre‐and‐post McKenna) along with a chunk of lyrical and spell‐binding storytelling – and this wedded to a bunch of intrepid and visionary art. It's a book that's a keeper for the spirited and for the mind, and an antidote for anyone who's sensing her/his brain is half dead from pop culture or the corporate news. Enjoy." 

—Jay Levin, Founder and former Editor‐in Chief, LA Weekly newspaper
"Given the plethora of publications on ayahuasca, it is sometimes difficult to know which are the worthiest. That being said, the Ayahuasca Reader is a classic."
—Mark Plotkin, PhD, ethnobotanist, Director of Amazon Conservation Team
"Gives scholarly, acute, practical takes on one of the most remarkable substances any shaman has ever mastered." 
—John Allen, FLS, Inventor of Biosphere 2, Pioneer of Biosphere Science
"A wonderful book of vivid reports, illuminating every aspect of Ayahuasca's own world, covering all that matters about these plant spirits and their worldwide impact. If we can accept the help of those whose life work has been to join with the plants and take in the deep truths of our genuine interpenetrated connection with all forms of life, The Ayahuasca Reader will support us in becoming more fully human. This book is a basket of jewels: of experiences, of visions, of miracles and of people like ourselves who have tasted and learned and returned to tell us their stories so we might be more open to our own." 
—James Fadiman, PhD, psychologist, researcher, author, The Psychedelic Explorer's Guide

"…the curanderos, daring scientists, and visionary artists represented here are voices in the vanguard helping us to understand what it will really mean to be an Earthling in the years to come." 
—Michael Garfield, Artist/Futurist, Global Communities Director of Symbio Life Sciences
"The Ayahuasca Reader is a seminal, benchmark publication and will be of intense interest to students of Amazonian indigenous culture, Native American spirituality, and metaphysical cultures." 

—Midwest Book Reviews (1st edition)

"The Ayahuasca Reader is an impressive anthology of articles and excerpts that, in combination, paint a perceptive portrait of the entheodelic psychoactive drink. . ." 

—Timothy White, The Shaman's Drum (1st edition)
[/vc_column_text][vc_column_text]
Background image: Sinfonía Chamánica, Anderson Debernardi, Oil on Canvas, 2010. Collection Luis Eduardo Luna.
[/vc_column_text][vc_gallery interval="3″ images="7579,7578,7577,7576,7582″ img_size="500xheight"][/vc_column][/vc_row][vc_row][vc_column][vc_btn title="ORDER THE BOOK" link="url:http%3A%2F%2Fwww.synergeticpress.com%2Fshop%2Fauthor%2Fluis-eduardo-luna%2Fayahuasca-reader-encounters-with-the-amazons-sacred-vine%2F|||"][vc_column_text]
[/vc_column_text][/vc_column][/vc_row]